The Alternative/pop-punk foursome 408 are back with a brand new video for "U 2". The anthemic new single features Aaron Gillespie from Underoath. It's the second single off their upcoming album Out Of It and will be released by Regime Music Group and BreakSilence Recordings.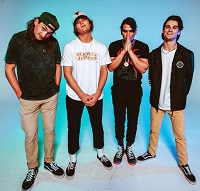 408 made waves earlier this year when they dropped "Mark Hoppus". The lead single from Out Of It even caught the attention of the Blink 182 frontman himself. We're really liking what we've heard from this band and hope the special guests continue. Although, they undoubtedly have the chops to stand on their own too.
The album is due out later this year so stay tuned for a release date sometime soon. Out of It was recorded with producer/engineer Andrew Wade and Andy Karpovck (A Day To Remember) at The Audio Compound in Orlando, Florida. They've set out to bring back the anthemic pop-punk vibe synonymous with the Warped Tour era. So far, from what we've heard, mission successful.
Underoath And Their Early Influence
Gillespie was an early influence on members of 408. The band jumped at the opportunity when presented with the possibility of collaboration. Vocalist Mark Faroudi dives a little deeper into the meaning behind the song and would like to dedicate it to anyone struggling with heartbreak and depression.
The song "U 2" was written specifically about a traumatic relationship that I was going through. The relationship started out as what I was searching for my whole life, only to then watch it crumble as quickly as if it started. Now coming out the other side, I was able to find myself and clarity. The song is inherently dark as it's a direct correlation to the story I was living at the time, as well as my mental state.

Mark Faroudi – 408 bassist/vocalist
408 blends elements of pop-punk, EDM, hip-hop, and electronica into a sound that's familiar but fresh. They've released a series of EPs which led to them signing their first big record deal. You can pre-save Out Of It here. And for more information check out their Tik Tok or follow along on Instagram and Twitter.
MendoWerks would love to hear from you! Submit your music now for a review.
"U 2" Lyrics
It was the start of the new year
She woke up saying what do we do here
I backed off I'm losing my cool here
Am I cool dear? I don't know
I'm lost and I don't have the words right now
found out that you fucked him at his house
cold hearts and a cup to wash it down
are we cool now?
When I needed you the most, you let me go
And I'm begging for you, lie to me, don't lie to me now
Over discomposure
when you hide it, I can find it
It was the start of the new year
She woke up saying what do we do here
I backed off. Am I losing my cool here?
Am I cool dear?
When you were flaming out
There's no point in trusting
And who can fix me now, when I'm worn to nothing
When I needed you the most, you let me go
And I'm begging for you, lie to me, don't lie to me now
Over discomposure
when you hide it, I can find it
So tell the truth you fucking liar
I found the noose and I am waiting for disaster
So tell the truth you fucking liar
I found the noose and I really hope that you cut your throat on this tightening rope as you're falling down
When I needed you the most, you let me go
And I'm begging for you, lie to me, don't lie to me now
When I needed you the most, you let me go
And I'm begging for you, lie to me, don't lie to me now
It was the start of the new year
About Author