The acting career of Sandra Bullock has taken a bit of a back seat in recent years with only a handful of starring roles since 2018's heist caper 'Ocean's 8.'
While doing press for 'The Lost City,' she revealed that she's going back on a hiatus to spend time with her children. Presumably that will go into full effect again once she promotes 'Bullet Train' later this year.
As proven with films like 'Miss Congeniality' and 'The Heat,' Bullock is at her best when given the space to be funny. Her spot-on comic timing is on display in this ridiculously over-the-top adventure that pairs her with Channing Tatum.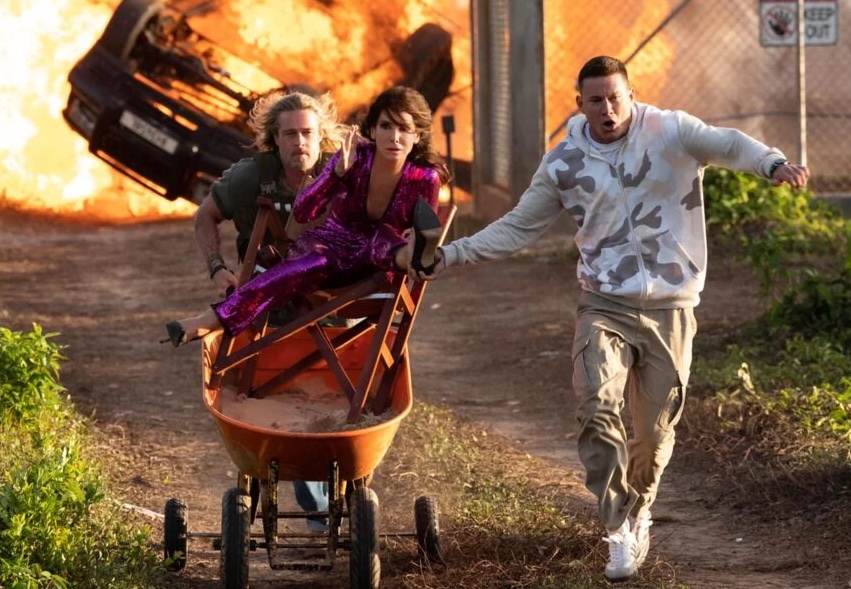 Bullock stars as Loretta Sage, a burnt-out author who specializes in historical romance novels. While promoting her latest book at a Q&A event with her Fabio-esque cover model Alan (Tatum), she reveals that it's her last adventure, much to the dismay of her publisher Beth (a hysterical Da'Vine Joy Randolph).
On the way out of the event, Loretta is kidnapped and delivered to Abigail Fairfax (Daniel Radcliffe, chewing up the scenery in every moment he's on screen). He plays a madman billionaire convinced that Loretta's book research can lead him to a lost treasure.
Alan is more than a cover model – he's been lusting after Loretta for years. Despite an utter lack of skill, he's instantly convinced that he can help rescue her. With a little help from a mercenary named Jack Trainer (Brad Pitt), Alan heads off to a remote island where Abigail is forcing Loretta to track down the jewels he is seeking.
The entire cast is great. My only complaint is that there is not enough Patti Harrison, who steals every scene she does manage to be in as Loretta's social media manager who boosts posts by adding #ShawnMendes to all of them.
Packed with explosions, wild chases, and a lot of laughs, 'The Lost City' is a throwback to big screen 80's adventures. It may remind you of 'Romancing The Stone' and 'The Jewel of the Nile' in the best possible way. In a time where the majors seem quite uninterested in original movies, this is a most pleasant surprise.
How to Watch
As featured in our recent May streaming preview, 'The Lost City' is viewable in 4K/Dolby Vision on Paramount+ and you can buy now from all digital providers. It will be rentable digitally starting on Tuesday, May 24, followed by a DVD/Blu-ray release in July.
About Author