Orlando's 408 has just dropped a new single that's making some waves. The song is a tribute to Blink 182's legendary bassist "Mark Hoppus" and the accompanying music video will put a smile on your face.
408 teamed up with Kellin Quinn from Sleeping With Sirens and Joshua Roberts from Magnolia Park to pay tribute to an artist that's had a huge impact on their lives. The goal was to record a genre mashup that stayed true to themselves while paving new ground.
The resulting collaboration combines elements of Juice WRLD style trap with pop-punk vibes and they've succeeded in creating something unique. To the point that they've gotten the attention of Mark Hoppus himself as evidenced by this tweet by the man himself.
Now let's talk about the video. It opens up on what looks like a slumber party with 408 members rocking out to Blink 182 music videos. A pillow fight ensues, because of course it does. Then it's time for rest and the guys slip off into a dream sequence. That's when things get interesting.
What's My Age Again?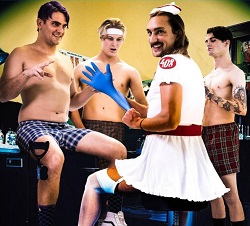 From there we see 408 band members running through the streets naked with conveniently placed blurring in all the right places. The video is reminiscent of the Blink 182 classic "What's My Age Again".
This song was an ode to the G.O.A.T. We wanted to exemplify a song that paid homage to Mark Hoppus, as he has always been one of our biggest influences. I discovered Blink-182 when I was young, and that just got me hooked and has really become my life mantra. 

Mark Faroudi – 408 vocalist/bassist
So what's next for 408? A debut full-length album sounds like a logical step. And they've announced that they've signed with Regime Music Group and BreakSilence Recordings (Unwritten Law, Authority Zero) to coordinate the release. You can expect to see a release of Out of It in late 2022. The band teamed with producer/engineer Andrew Wade and Andy Karpovck (A Day To Remember, Neck Deep) on the project and have been working out of The Audio Compound in Orlando.
Keep your eyes and ears peeled for Out of It later this year. Expect plenty of late 90s/early 2000s pop-punk vibes. Mix in elements of EDM, hip hop, and electronica, and frontman Faroudi says fans can expect their most ambitious effort to date.
Stay in touch with 408 by linking up with their Bandsintown page for show information. Or feel free to follow along on Twitter and Instagram.
MendoWerks would love to hear from you! Submit your music now for a review.
About Author