Coheed and Cambria have released a brand new single in the form of "Comatose". They've continued to pick up momentum ahead of the release of their highly anticipated new album. Vaxis II: A Window of the Waking Mind will be released on June 24th.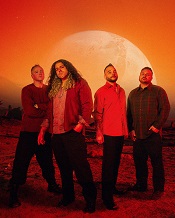 Just to be completely upfront, a bit of a confession is necessary. As a longtime fan of Coheed and Cambria, it's difficult to cover this topic with impartiality. But it really feels like they're releasing some of the best music of their career. Many bands, quite frankly, run out of ideas after a few records. But this dynamic quartet continues to innovate and push things forward.
"Comatose" is an up-tempo, high-energy song that leans on Coheed's classic pop-punk roots. It's about folding under pressure and wanting to avoid things when confronted with a stressful situation. A timely topic in a world that is increasingly chaotic. Frontman Claudio Sanchez's vocals soar while guitarist Travis Stever delivers just the right amount of crunch on his guitar. The locked-in rhythm section of Josh Eppard (drums) and Zach Cooper (bass) holds it down. This is going to be a fun song to hear performed live in concert this summer.
New Album Due June 24th
The new release is part two in a new five-part series of concept albums. This Amory Wars continuation follows a couple on the run from tyrannical forces. The limited-edition deluxe box set includes a 96-page illustrated hardcover novel. Developed by frontman Claudio Sanchez and written by his wife Chondra Echert, it'll surely delve deeper into the continuing storyline.
"Comatose" follows the release of lead singles "Rise, Naianasha (Cut The Cord)", "The Liars Club" and "Shoulders". The latter being their most successful song to date having gone top 10 on rock radio. While traditionally they haven't received the airplay they've deserved, it appears the powers that be are starting to pay attention. Part of what makes this band so special is they haven't conformed to others' expectations. Staying true to themselves has resulted in a loyal dedicated legion of fans that continues to grow.
Summer Tour Kicks Off July 12th
Demand for tickets to Coheed's upcoming summer tour is at an all-time high. It's their first major headlining tour in five years. They'll be performing at some of the largest venues of their career coast to coast. Dance Gavin Dance and Mothica will support and tickets are available through their website now. Check out Brooklyn Vegan's piece on the new DGD album info and Louder offers up coverage of Mothica's latest single "Last Cigarette".
For additional Coheed and Cambria updates and information, you can follow along on Instagram and Twitter. In the meantime, there's still time to pre-save and pre-order the new album.
Tracklist – Vaxis II: A Window of the Waking Mind
The Embers of Fire
Beautiful Losers
Comatose
Shoulders
A Disappearing Act
Love Murder One
Blood
The Liars Club
Bad Man
Our Love
Ladders of Supremacy
Rise, Naianasha (Cut the Cord)
Window of the Waking Mind
MendoWerks would love to hear from you! Submit your music now for a review.
About Author