Big Drink's new single "Different Circles" could be a sign of big things to come from the band. This pop-punk outfit hails from the UK and has hit a home run with their new song.
It Was Supposed To Be Easy is the new EP set for release on June 3rd. Fans of A Day To Remember, Four Year Strong and other bands with a similar vibe have a strong chance of enjoying "Different Circles". The song features crunchy guitars, catchy accessible vocals, and some really enjoyable growling about two minutes in.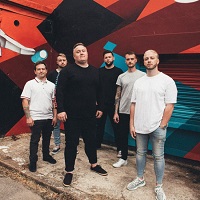 "Different Circles" is a twisting journey exploring the thoughts and feelings behind giving up. Aimed at trying to explain the upwards battle faced in life and creative endeavours, the track hints at dissatisfaction and isolation in making music during lockdown and the piling pressure of trying to push through bad habits and repetitive behaviours to succeed. All bundled up into a pop-metal track.

Josh – Big Drink
Formation + New EP
Members of Big Drink reside in the towns Newbury and Hereford in the UK. Their stated goal upon formation was to write and perform 'catchy as hell' pop-punk music. It has to be upbeat, energetic, and full of down-tuned riffs according to the ideals they set out with.
Well, mission accomplished gentlemen. Big Drink has carved out a sound of its own while not being afraid to embrace its influences. The new EP was recorded at Steel City Studios (Bring Me The Horizon) and was mixed and mastered by Alias Studio (No Captain Chunk!).
Stay connected with Big Drink for upcoming show announcements by following along on Facebook and Instagram. If you'd like to pick up some merch you can check out some cool t-shirts here.
MendoWerks would love to hear from you! Submit your music now for a review.
About Author