Grammy-winning rockers Mastadon announce fall tour plans with Ghost. The in-demand arena tour will kick off Friday, August 26th in San Diego and run through Wednesday, September 21st in Peoria, Illinois.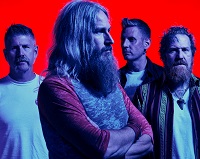 Tickets are on sale now. Ghost will headline so make sure you don't spend too much time tailgating in the parking lot before the show(s) you choose to attend.
The innovative Ghost hails from Sweden. They just released their third studio album Impera in March. and scored a number of top 5 debuts all over the globe (in terms of sales). According to a recent Blabbermouth piece, Ghost mastermind Tobias Forge was recently interviewed on Swedish TV. You can view the footage here. Forge speaks English but you'll just need to turn on the subtitles in the settings to understand the questions.
Mastodon's Formation & Evolution
Mastodon formed in 2000 out of the Atlanta, Georgia area. They've released eight studio albums, and have been nominated for six Grammy Awards. They won the coveted 'Best Metal Performance' award for 2017's Sultan's Curse which can be found on their Emporer of Sand album.
They continue to break new ground. They'll be touring in support of their latest release Hushed and Grim which was released in the summer of 2021. Musical highlights include "Pushing The Tides", "Teardrinker" and "Peace and Tranquility". The latter being their latest, with a lyric video dropping in April.
DID YOU KNOW: Mastodon has had music featured in the movies Transformers: Dark of the Moon, Friday Night Lights, and Bill & Ted Face The Music.
Link up with Mastodon at their website for more details on their European Summer Tour. They'll also be playing the Louder Than Life Festival and Furnace Fest in September. You can follow along on Twitter and Instagram for additional updates.
Ghost On Tour With Mastodon
San Diego, CA Pechanga Arena – Aug 26
Tucson, AZ Tucson Convention Center – Aug 27
Austin, TX Moody Center – Aug 30
Corpus Christi, TX American Bank Center – Aug 31
Huntsville, AL Von Braun Civic Center Arena – Sep 2
Duluth, GA Gas South District – Sep 3
Asheville, NC ExploreAsheville.com Arena – Sep 4
Tampa, FL Yuengling Arena – Sep 6
Trenton, NJ Cure Insurance Arena – Sep 9
Belmont Park, NY UBS Arena – Sep 10
Providence, RI Dunkin Donuts Center – Sep 12
Bangor, ME Cross Insurance Arena – Sep 13
Quebec City, QC Videotron Centre – Sep 15
Laval, QC Place Bell – Sep 16
Toronto, ON Coca Cola Coliseum – Sep 17
Saginaw, MI Dow Event Center – Sep 19
Youngstown, OH Covelli Centre – Sep 20
Peoria, IL Peoria Civic Center – Sep 21
MendoWerks would love to hear from you! Submit your music now for a review.
About Author