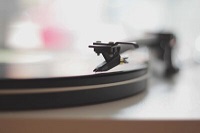 August is shaping up to be a solid month for new music releases. Here's a look at five albums that should be on your radar along with a few honorable mentions down below.
1. The Interrupters In The Wild
Release Date: August 5th
In The Wild will be the fourth studio album from the Interrupters. Formed out of Los Angeles in 2011, they broke out in a big way in 2018 with "She's Kerosene." Their new 14-track album is a story of survival and resilience. You can pre-order/purchase through Hellcat/Epitaph Records here.
Artist links: Website, Instagram & Twitter
2. Danger Mouse & Black Thought Cheat Codes
Release Date: August 10th
Respected producer Danger Mouse teams up with legendary Roots rapper Black Thought on this highly anticipated collaboration. According to a recent Rolling Stone piece, the album is full of guests like Run The Jewels, A$AP Rocky, Raekwon, and others.
Artist links: Website, Instagram & Twitter
3. Goo Goo Dolls Chaos In Bloom
Release Date: August 12th
Goo Goo Dolls return with their 13th studio album Chaos In Bloom. The release marks the beginning of a new chapter for the band as it's the first produced by frontman John Rzeznik. They hunkered down at Dreamland Studios just outside of Woodstock, NY to record the album. They're spending this summer on the road with Blue October.
Artist links: Website, Instagram & Twitter
4. Panic! At The Disco Viva Las Vengeance
Release Date: August 19th
The new album from Panic! At The Disco takes an introspective look into frontman Brandon Urie's experience growing up in Las Vegas as well as his decade (plus) in the music business. Urie changed up his process for the new record recording everything live to tape. A change that he's been quoted as saying 'kept him honest'.
Artist links: Website, Instagram & Twitter
5. Muse Will Of The People
Release Date: August 26th
Muse has embraced their heavy & industrial side on their latest single "Kill Or Be Killed". According to frontman Matt Bellamy, "we found a modern metal sound featuring double bass drum action and even a death growl. Lyrically the song takes influence from my favorite Paul McCartney song 'Live And Let Die'." You can still pre-order the album here. The official Muse online store is offering several different bundles including an exclusive Collector's Edition vinyl, a selection of cassettes, and three signed art cards.
Artist links: Website, Instagram & Twitter
Thanks for checking out our top five! Here are a few honorable mentions you might be interested in. Eminem's second greatest hits collection drops on August 5th, Curtain Call 2. Sylvan Esso's No Rules Sandy will be available on August 16th. And Matt Maeson's Never Had To Leave will be on your preferred DSP on August 26th.
Enjoying MendoWerks Magazine? Receive updates each week directly in your inbox. Sign up for the newsletter here.
About Author