90s alt-rock icons The Toadies will hit the road this fall. They're celebrating the 25th anniversary of the release of their iconic Rubberneck album. Originally slated for 2020, the tour has been rescheduled twice. But as they say, the third time's a charm.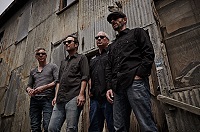 Rubberneck is the debut album from The Toadies and was released in August of 1994. Rolling Stone magazine named the album one of the '50 Greatest Grunge Albums' of all time. Featuring their breakthrough hit "Possum Kingdom", the song continues to be a rock radio staple to this day.
The Toadies On Tour
The band will perform three shows in Texas in late August before the tour kicks off in earnest on September 13th in Tulsa, Oklahoma. Running through October 31st, they'll celebrate Halloween at the House of Blues in New Orleans to wrap things up. They'll perform Rubberneck in its entirety each night.
Fellow Texans Reverend Horton Heat will join The Toadies on tour. They'll be performing their Al Jourgensen-produced album Liquor in the Front cover to cover. Drakulas will open up west coast tour dates while Nashville Pussy will join the tour for the east coast run.
Breakup & Reunion
The Toadies toured extensively throughout the latter half of the 90s until their eventual breakup in 2001. After a five-year hiatus, the band reformed in 2006 and released a live album called Rock Show the following year. While subsequent album releases failed to replicate the success of "Possum Kingdom", they've continued to release music and build upon their loyal fanbase.
As part of the 20th-anniversary celebration of Rubberneck, they released the short film Dark Secrets, The Stories of Rubberneck. For tickets and information link up with The Toadies website. For additional updates follow along on Instagram and Twitter.
Tracklist: Rubberneck
Mexican Hairless
Mister Love
Backslider
Possum Kingdom
Quitter
Away
I Come from the Water
Tyler
Happy Face
Velvet
I Burn
The 20th-anniversary edition features bonus tracks "Run in with Dad", "Stop It", "Rockfish" and live versions of "Possum Kingdom" and "Tyler".
Enjoying MendoWerks Magazine? Receive updates each week directly in your inbox. Sign up for the newsletter here.
About Author