After two relatively goofy comedies in the early aughts, The Russo Brothers jumped in to the Marvel Cinematic Universe in 2014 with 'Captain America: The Winter Soldier.' They not only took the reins of that film's sequel, but then proceeded to direct the next two films in the 'Avengers' series.
It's probably not too surprising to learn that their first film for Netflix is among the streamer's most expensive releases to date. With 'The Gray Man,' every bit of that alleged $200 million budget is on display.
A CIA Agent Fights For His Life
Ryan Gosling stars as "Sierra Six," a high-level secret assassin for the CIA. After learning secrets about Denny Carmichael, a corrupt official at the agency (Regé-Jean Page, 'Bridgerton'), Six begins a literal fight for his life.
Carmichael's plan to protect his regime is to hire an unscrupulous mercenary named Lloyd Hansen (Chris Evans) to take Six out. This turns out to be easier said than done. Six puts his trust in former mentor Fitzroy (Billy Bob Thornton) and a fellow agent named Dani (Ana de Armas) to not only stay alive, but to stop Carmichael and Hansen's dirty deeds.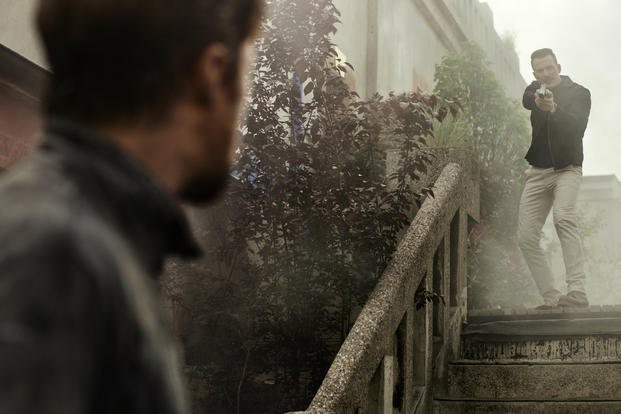 To call this movie action-packed is an understatement. The most puzzling thing about it is how it managed to earn an official PG-13 rating. This is by far one of the most violent movies I have seen in ages.
Accordingly, those action sequences are quite simply, jaw-dropping. There are fireworks, missile launchers, and a lot of exploding buildings. And if you're into car chase sequences, you are covered in spades.
'The Gray Man' is a frenetic conspiracy thriller with impressive stunts that jumps all over the world. If you like your movies with a healthy dose of escapism, this is for you.
The Gray Man Cinematic Universe?
It's safe to say we'll be seeing the Russo Brothers again soon. A sequel was already announced and the script for a third offering is in the planning stages.
How to Watch
As featured in our July streaming preview, 'The Gray Man' is playing in select theaters and streaming on Netflix.
About Author