If you're looking for something new on streaming in July, we've got you covered. Maybe you want to sit down with a brand new release to rent on VOD? If you'd rather check out something that has just hit a service you already subscribe to, we've got you covered there too.
Check out some of our picks for what you should add to your July streaming watchlist! What are you most excited to see?
Newly Available on VOD
AMC+ (includes IFC Films Unlimited and Shudder)
Barbarians – Charles Dorfman's home-invasion thriller stars Iwan Rheon ('Game of Thrones') and Catalina Sandino Moreno ('Maria Full of Grace'). (available now)
Last Looks – Charlie Hunnam ('Sons of Anarchy') and Mel Gibson lead this adaptation of the hit 2018 crime novel by Howard Michael Gould, who crafted the screenplay. (available now)
Paris, 13th District – Acclaimed French director Jacques Audiard ('Rust and Bone') helms this sexy drama that he co-wrote with 'Portrait of a Lady on Fire' director Céline Sciamma based on multiple short stories from Adrian Tomine. (July 15)
This is GWAR – If you've ever wanted to know more about the masked monsters of this heavy metal collective, now's your chance! (July 21)
Happening – We reviewed Audrey Diwan's powerful story of the lengths that women had to go through before abortion was legal in France earlier this Spring. This is one is more timely and relevant after the recent SCOTUS ruling in America. (July 22)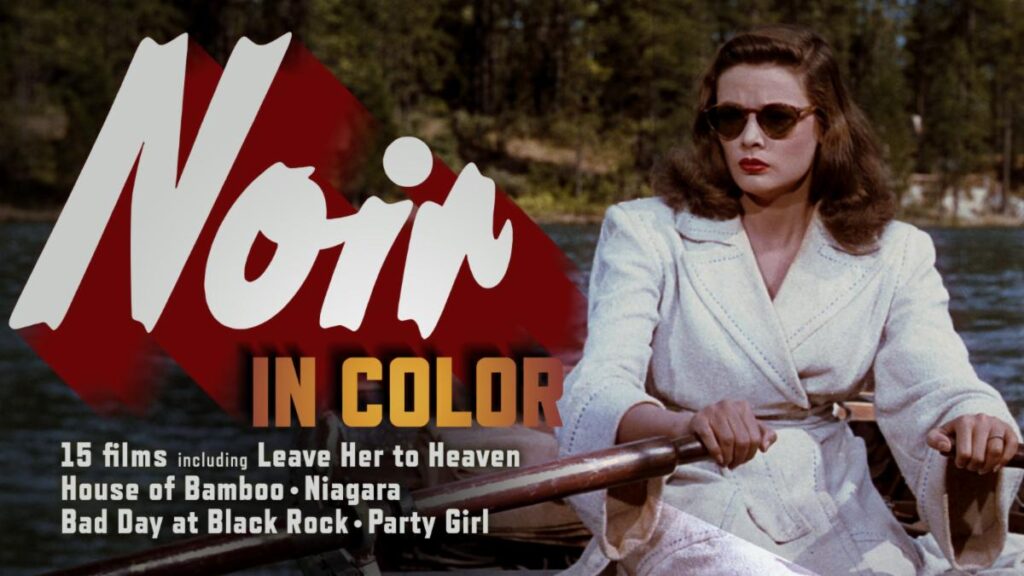 Air Doll – This 2009 film from Hirokazu Kore-eda ('Shoplifters') based on a hit manga series makes its U.S. Streaming Premiere. Bae Doona stars as an inflatable sex doll who gains consciousness and falls in love outside her owner's home. (available now)
Ahed's Knee – Co-winner of the Jury Prize at Cannes last year (an award it shared with 'Memoria'), this intensely personal drama tells the story of an Israeli filmmaker who finds his freedom squashed by the government who attempt to restrict what he says during a Q&A to promote his latest film. (available now)
Noir in Color – This stunningly programmed series of 15 feature films streaming in July proves that not all film noirs need to hide in the shadows of black and white. Includes Nicholas Ray's 'Party Girl' and John M. Stahl's sumptuous 'Leave Her to Heaven' from 1945. (available now)
The Princess – Joey King kicks ass in this action-packed film from acclaimed Vietnamese director Le-Van Kiet. (available now)
The Bob's Burgers Movie – The Belcher family's big screen debut was delayed due to COVID and after its brief theatrical release, it'll be simultaneously hitting Hulu and HBO Max. (July 12)
Aftershock – This co-production from ABC News and the Onyx Collective is a documentary to help raise awareness of the extremely high levels of maternal fatalities during childbirth in America. (July 19)
Hatching – Bizarre creature feature from Finland has maintained a 92% on Rotten Tomatoes throughout its theatrical release. (July 29)
Strawberry Mansion – Co-directors Albert Birney and Kentucker Audley are back again with another surrealist sci-fi comedy that made a splash earlier this year at Sundance. (available now)
This Much I Know To Be True – As featured in our SXSW coverage this year, Andrew Dominik's latest collaboration with Nick Cave and Warren Ellis is a starkly intimate look behind the scenes at the recording of the albums "Ghosteen" (which was written in the aftermath of the death of Cave's son, Arthur) and "Carnage." This is a streaming exclusive available in 4K on select devices. (available now)
The Sea Beast – 'Big Hero 6' director Chris Williams left Disney behind and took his latest project to Netflix and Sony Pictures Imageworks. An adventure inspired by '20,000 Leagues Under the Sea,' this animated family film features the voice talents of Karl Urban, Marianne Jean-Baptiste, and Dan Stevens. (available now)
Persuasion – Dakota Johnson and Henry Golding star in what has to be the 750th adaptation of the beloved Jane Austen novel. (July 15)
The Gray Man – MCU alums Anthony and Joseph Russo tapped out to make this action film with Ryan Gosling and Chris Evans that, at a $200 million budget, has been called the most expensive movie ever made by the streaming giant. (July 22)
The Bad Guys – If you've got younger kids, you're probably gonna be forced to watch this a few bazillion times in the months ahead. This heist tale featuring the criminal crew of Mr. Wolf, Mr. Snake, Mr. Piranha, Mr. Shark and Ms. Tarantula features the voice talents of Sam Rockwell, Marc Maron, Awkwafina, and Craig Robinson. (available now)
House of Gucci – Not sure I can even recommend this for free, but if you must… (available now)
Don't Make Me Go – John Cho and Mia Isaac star in this story of a father and daughter on a cross country road trip. (July 15)
Anything's Possible – Billy Porter makes his directorial debut with this coming-of-age rom-com about a trans teenager during her senior year of high school. (July 22)
Hopefully these recommendations make your July streaming efforts much easier to handle!
About Author