Alt-rockers The Walking Trees have dropped a brand new single. "Sun Goes Down" is their most dynamic release to date.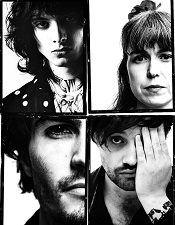 The band is made up of musicians from across the U.K. The Walking Trees consist of Loic Andrew Williams, Maximilian Mawdsley, Alessi Laurent-Marke, Jason Santos, and Joshua Leach. Influences like The Doors, Led Zeppelin, and Iggy Pop shine through. But, the band taps into a modern sensibility that adds urgency and relevancy to today's music scene.
The catchy blues rock-influenced song builds on the success of "SOUTHSIDE aLIVE!" and "Don't Ask Me Why" and is their third single to be released. When asked about the meaning behind the new release the talented group had this to say.
The song speaks life and invigoration into a world wrestling with fear, anxiety, isolation and confusion. We invite people to take a leap of faith, to consider embarking on the impossible, to leave behind fears of darkness pervading and to take a chance on something new…all of this breathed into the listener through the Trees' chaotic, cinematic, dramatic and yet effortless language of sound.

-The Walking Trees
The Walking Trees In The Studio
The Walking Trees teamed up with Christoph Skirl to record and produce the song. He's known for his work with Foals and Tom Misch. They hunkered down at Echo Zoo Studios in Eastbourne to work on "Sun Goes Down". Drum and bass guitars were recorded and engineered by David Glover at Tesla Studios while Jason Mitchell from Loud Mastering was brought in to master the track.
The multi-talented Williams, frontman for the group, has spent time in the modeling business. As a result, he's amassed a massive social media following. While talented in the modeling arena we hope he continues to focus on pushing the band forward into new dimensions.
It's clear each member brings something special to the group and will undoubtedly continue to break new ground. Connect with The Walking Trees on their Linktree or follow along on Instagram for updates. Let us know what you think of "Sun Goes Down", leave your thoughts in the comment section below.
Enjoying MendoWerks Magazine? Receive updates each week directly in your inbox. Sign up for the newsletter here.
About Author