A new era of Panic! At The Disco is upon us. Their highly anticipated seventh studio album is set for release this summer. The title track "Viva Las Vengeance" is available now with the album scheduled to drop on August 19th.
Viva Las Vengeance is the first new album from the Brendon Urie-led outfit since 2018s Pray For the Wicked. Urie changed up his creative process for the new release as everything was recorded live to tape alongside production partners Jake Sinclair and Mike Viola. The album will take an introspective look into his experience growing up in Las Vegas as well as Urie's decade+ in the music business. The upbeat anthemic song is sure to please fans new and old.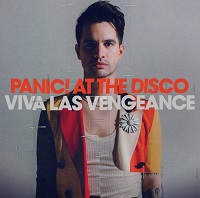 Viva Las Vengeance is a look back at who I was 17 years ago and who I am now with the fondness I didn't have before. I didn't realize I was making an album and there was something about the tape machine that kept me honest.

-Brendon Urie
Panic! At The Disco On Tour
Talk about a big day for Panic! At The Disco fans. They'll support the new release with an extensive tour of the US and Europe. Kicking off September 8th in Austin Texas, the US leg will wrap up October 25th in San Francisco. From there they'll pick it back up in February of 2023 with shows in Denmark, the Netherlands, and the UK.
Tickets will be available to the general public on Wednesday, June 8th. $1 from each ticket sold will benefit the band's Highest Hopes Foundation. The goal of the organization is to help support human rights for all in communities that are subject to abuse or discrimination.
Verizon is offering an exclusive pre-sale on June 2nd at 10 am through Tuesday, June 7th at 10 pm. So be sure to check Verizon Up if you're interested. Additionally, Citi is offering a pre-sale for cardmembers and information can be found here.
DID YOU KNOW: In 2018 Brendon Urie was nominated for a TONY Award. He wrote "Simple Sponge" and was up for the "Best Original Score Written For Theatre" award. The song was included in the Spongebob SquarePants Broadway Musical.
For more information visit the Panic! At The Disco website or follow along on Instagram and Twitter.
Tracklist: Viva Las Vengeance
Viva Las Vengeance
Middle of a Breakup
Don't Let The Light Go Out
Local God
Star Spangled Banger
God Killed Rock And Roll
Say It Louder
Sugar Soaker
Something About Maggie
Sad Clown
All By Yourself
Do It To Death
MendoWerks would love to hear from you! Submit your music now for a review.
About Author