Accomplished Yogi and talented musician Danny Paradise have released a new music video for "On Her Wings". Appearing on his Caravan of Souls album, the song features the undeniable talents of Nadia Deleye.
Caravan of Souls was released to the public in the fall of 2021. Grammy-nominated producer Michael Ruff is involved in the project and is featured on piano, bass, flutes, drums, and percussion. The visually stimulating video for "On Her Wings" was filmed in Danny's Hawaiian homeland.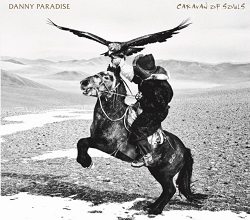 Inspired by The Radiance Sutras by Dr. Lorin Roche, the ancient text describes more than 100 different doorways into meditation. Dr. Roche brings a unique perspective to each of these teachings. That, and guidance on how to best practice each.
Longtime Yoga Teacher
As for Danny's background, he has been practicing Ashtanga Yoga since 1976. He's been teaching since 1979 and has taught pupils of all skill levels and from all walks of life. That includes well-known artists, musicians, athletes, and others. According to his website, his goal is to help people develop a deep connection to Yoga practice.
Caravan of Souls was released through Mesa Bluemoon Records. The album features 16 world and jazz-influenced songs.
Caravan of Souls Tracklist
I Came Upon the Windy Shore
On Her Wings
Pure Joy of It
Love Will Rescue You
Notes from a Silent Revolution
Caravan of Souls
Very Old Bones
The Madras Bombay Line
Not a Crime
Open Secret
Find Me a River
Mountains of the Moon
Eagle Boy
Won't Stop Walking
Dreamtiger
Love Will Rescue You
Link up with Danny Paradise on his website where you can learn more about his yoga teachings. For additional updates, you can follow along on Facebook and Instagram.
MendoWerks would love to hear from you! Submit your music now for a review.
About Author