Progressive groove rockers Dopapod's brightest days are still ahead of them. Their forthcoming self-titled studio album featuring the new single "Black Holes" will be their seventh. Tickets are on sale now for their summer tour dates with the legendary George Clinton and Parliament Funkadelic.
Dopapod treats each of its albums as experiences meant to be shared out of your speakers, on stage, and in other creative ways. Sure, lots of bands have creative videos to accompany new music releases. Dopapod has taken that a step further and will be offering up a tabletop board game specifically created for this new album.
Formed out of the Boston music scene, they incorporate elements of jam, funk, metal, and even a hint of Americana at times. The result is a unique style that has made them a popular draw at venues and music festivals across the country.
Return From Hiatus Cut Short
A self-imposed hiatus prior to the pandemic allowed them to re-energize and re-focus. Their return was cut short when the world stood still in an effort to combat COVID. Drummer Neal Evans had this to say about the effect it had on the band. "The hiatus allowed us to redefine ourselves, and carry on with a lot of new energy. It was a restorative opportunity and helped us move forward."
Dopapod is Eli Winderman (keys, vocals) and Rob Compa (guitar, vocals). Chuck Jones (bass) and Neal "Fro" Evans hold down the rhythm section. The forced isolation brought about a laser focus on writing new material. The result is the 11 new songs that will appear on Dopapod. The album is set for release on May 27th.
Dopapod Board Game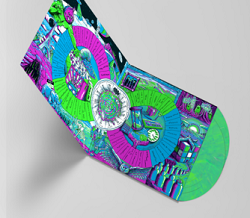 The board game concept came about during discussions held on their regular Zoom hangouts in the early days of the pandemic. While spitballing ideas for album artwork, a (figurative) light bulb went off. They wanted to take fans on a journey through their history. And since time travel hasn't been invented (yet), they devised a creative way to connect with fans.
Tapping into their back catalog, each of their previous albums is its own land on the board. Each space is a different song. For more information and to lock in your pre-order click here.
New Music Video
The video for "Black Holes" was directed by Curtis Peel and taps into recurring themes of space and time travel found in Dopapod's music. The footage features a mix of performance footage and colorful artwork. The result captures the essence of the band nicely. And I can imagine this music will translate nicely into a live setting. As far as the meaning behind the song, Winderman had this to say.
It's a song about not giving up and thinking creatively to achieve the desired outcome. All for one and one for all is another concept that we try to tap into with improvising as well. The main focus is on the group to achieve moments of unity.

Eli Winderman – Dopapod
Stay in touch with Dopapod by bookmarking their website or by following along on Instagram and Twitter. They're known for treating fans to live performances and interviews via their Twitch channel.
Dopapod Tour Dates
04/20/2022 / Sony Hall / New York, NY
04/28/2022 / Elevation 27 / Virginia Beach, VA
04/28/2022 – 05/01/2022 / Some Kind Of Jam 16 / Kempton, PA
04/29/2022 / Luckinghole Creek Brewery / Goochland, VA
05/13/2022 – 05/14/2-22 / Hookahville / Newark, OH
05/27/2022 – 05/29/2022 / Summer Camp Music Festival / Chillicothe, IL
06/15/2022 / SummerStage in Central Park / New York, NY**
06/17/2022 Beardfest / Hammonton, NJ
06/18/2022 / College Street Music Hall / New Haven, CT**
06/19/2022 / The Palladium / Worcester, MA**
06/30/2022 / Salvage Station / Asheville, NC**
07/02/2022 / The Caverns / Pelham, TN**
08/11/2022 / Mesa Amphitheater / Phoenix, AZ**
08/17/2022 / YouTube Theater / Inglewood, CA**
08/19/2022 / Mountain Winery / Saratoga, CA**
08/20/2022 / Blue Lake Casino / Blue Lake, CA**
08/21/2022 / Charles Krug Winery / Napa, CA**
** supporting George Clinton and Parliament-Funkadelic
Want updates when we publish new articles? Sign up for our email list and take advantage of our no-spam guarantee.
About Author