It has been over a decade since 'Jackass 3D' was unleashed on the world. Getting older when your career revolves around pranks and extreme stunts is not exactly ideal. But here we are, twelve years after the last film installment (we're not counting 'Bad Grandpa').
Johnny Knoxville, Steve-O, Chris Pontius, Preston Lacy, Weeman, and the whole Jackass crew are certainly older, but you'd be hard-pressed to call them wiser.
In 'Jackass Forever,' the crew reassembles alongside new cast members Eric Manaka and Rachel Wolfson. We even get a few celebrity features from the likes of Machine Gun Kelly, Tyler the Creator, and Eric André, none of whom are spared from the often humiliating action.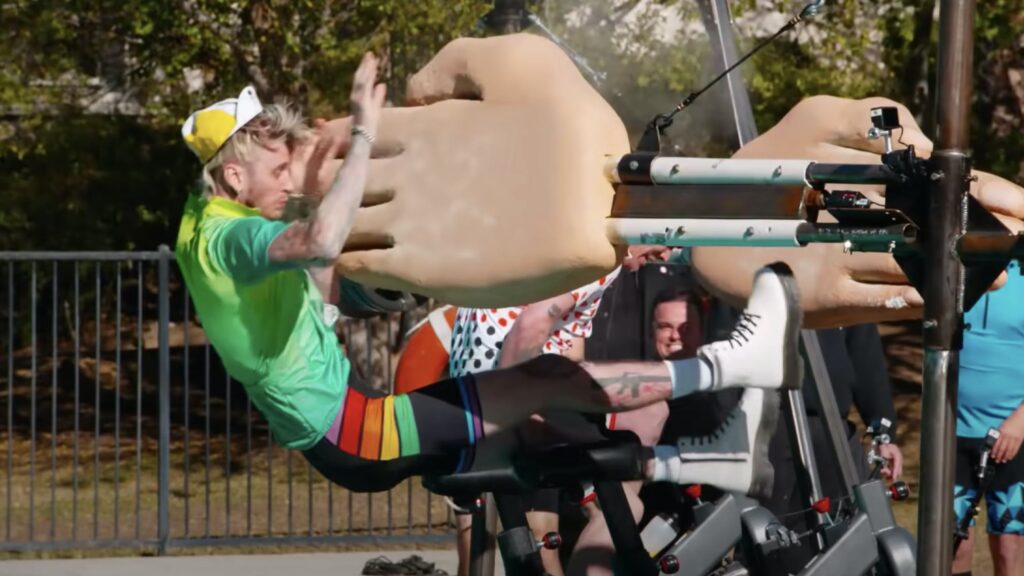 Per usual, the pranks involved are sophomoric and often, in some capacity, painful. I cringed when newcomer Wolfson underwent "scorpion botox" with direct stings to the face. It's also hard to believe that Steve-O is now sober when he agrees to have a queen bee placed directly on penis and then have an entire hive unleashed upon his naked body. Still, if you're like me, you'll laugh until you cry at almost all of these deranged moments. Full disclosure: I had to shield my eyes at all the vomiting and also during a truly disgusting overturned Port-O-Potty moment.
Anybody planning to watch this should know what they're getting in to already, but you should also probably be aware that the only place I've seen more male nudity is actually in gay porn. And, according to a recent interview with Steve-O, it's genuinely done on purpose to combat homophobia. "I think that really we're poking fun at people who are insecure and people who are negative and hateful."
It's bittersweet to see the gang back in action without Ryan Dunn (who tragically died in a car accident in 2011) and Bam Margera, who actually started filming for this new film but was fired from the project (he has an active lawsuit against Paramount, Johnny Knoxville and director Jeff Tremaine for wrongful termination).
After multiple delays due to COVID-19, it's oddly fitting that this was one of the first big movies to get audiences back in theaters earlier in the year. If this is truly a swan song for the franchise, they've gone out with a bang (and a whole lot of pain).
'Jackass Forever' is streaming now in 4K Dolby Vision for subscribers of Paramount+. It is also currently available to purchase from all digital retailers. It will be available to rent digitally or to buy on DVD and Blu-ray as of April 19.
About Author