The last few months have introduced us all to some incredible music, I know. However, there are few artists who captivated me the way that Saint Slumber, Mayko & THE HARA have.
Ever.
So, if you take my advice at any point this year, here are three artists that I really need you to check out real quick. Trust me, it'll be well worth it.
While there will be links and embeds galore for you to explore, here is a Spotify playlist with selections from all three for you to start out with:
---
2021's Winner: Saint Slumber's EP, how to lose your self.
I'd honestly be really sad for you if you missed Saint Slumber's late-December release last year.
That is why I'm telling you about it now! 🙂
Because how to lose your self is the best EP I heard in all of 2021, if not, like, ever.
Why such a huge statement? Well, this album is the only one to physically lock me in from start to finish; I was completely enthralled by it. It caught my attention so thoroughly that, true to its title, I lost myself in it. As a result, I nearly forgot where, or when, I was, while I listened; I didn't dare move, for fear of missing even one tiny detail. When it was over, I was nearly disoriented. I needed to acclimate to real life again. In fact, I was compelled to take nearly 1000 words worth of notes the first time I listened to it.
Let me rephrase that for you: this EP is so good that it compelled me to write a whole frickin' essay the first time I listened to it, completely off the cuff, in one sitting.
So, nerds, get ready: if you're a fan of concept albums, then this piece is doubly for you. (A hint? "never/nowhere" has become so much more than a great single; but, I'll spare you my essay… for now.).
The point is–this album caught me by surprise.
I already loved the band, but this piece has really allowed them to show off their creativity, skill, and devotion to lyricism. This piece exists in the space between despair and hope, exploring the nuances and repercussions of living with unyielding internal strife. It's an honest account of what many of us face every single day–perhaps without even realizing it.
Considering the dichotomy between older tracks like the creepy, dystopian "It's Okay To Be Afraid" and millennial anthems like "Grief 1993″…
I didn't think Saint Slumber could surprise me again.
And yet…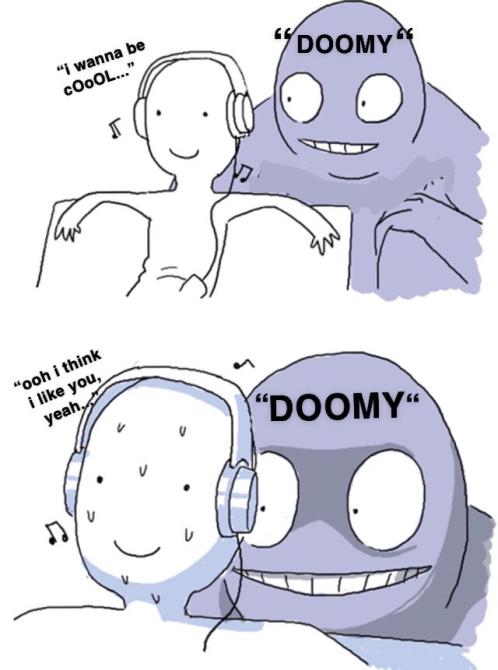 I stumbled across Saint Slumber in 2020 and I have never looked back. I honestly don't think I have made a single playlist without them since; they've found the perfect crossroads between dark pop, rock n roll, and electronica and have just been getting better and better with every EP they put out. If you like genre splicing, give them a try. Rumor has it, their first LP is coming sometime this year.
And how to lose your self solidifies Saint Slumber as a contender for "the next band that's going to blow up" because it's simply a masterpiece. Starting with the spooky spoken word piece in the beginning, to the flow between tracks, the juxtaposition of sound and mood… In my opinion, Saint Slumber is doing what so many artists want to do, but in the best, most honest way possible. It's clear that these guys are doing what they love, not just following a trend, not just trying to get plays. They're making music with soul.
Like I said before–
Lyricism at its finest. I would be honored to see Saint Slumber in my city—or any city. (please).
Keep in Touch With Saint Slumber:
You can connect with the band on social media and through their Beacons page here.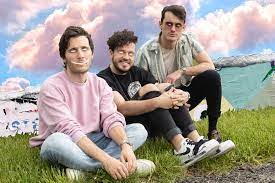 The Young Legend of the 2020's: Mayko
EDM is overflowing with possibilities; you never know what you're going to hear next. The variance is what I love the most about the genre. That, and the creative ways we've found to describe the evolution of styles and sounds that these brilliant artists keep coming up with.
However, the best thing is when I happen to listen to an artist and they can be best described as, well– indescribable.
You know– someone who is beyond genre.
Someone whose style is so unique to them that they can't be categorized as this or that—
Where all we can really do is sit, awe-stricken, and listen to their work.
That someone is undoubtedly Mayko.
For example, the first time I listened to Mayko's "T3CHNO", my only thoughts were, "This is a gift and I need better speakers in order to really appreciate it."
No, really–I knew I wasn't doing the track justice by playing it through the native (read: shitty) Acer speakers in my laptop in any capacity. So, I sought out something with better output and tried again.
Because here's the thing: each one of Mayko's tracks—be it "T3chno" or "Contact" or another—has the emotional impact of an entire movie, complete with mood changes and action and drama and seamless transitions between it all.
There isn't a single one you will "get" in a single listen; all of this impact is packed into a club-friendly, gym-friendly, commute-friendly, anytime-friendly song, after all.
The only word that accurately describes his sound is "cinematic".
So–my go-to method for listening to Mayko–especially new, or new-to-me Mayko–is to just…loop the music a few times. Just plug in my (new, better) headphones and go.
Mayko layers together so many precious details in each and every track that he produces and the result is quality music with an extremely high replay value. You'll hear something new each time you listen, be it in the background, the foreground–or something obvious that you missed because you were paying attention to something else.
And that's okay. That's the point–to be captivated.
And I promise you, you will be.
Don't want to listen to me? Here's the word around the scene:
"[Mayko]'s going to be a legend, no doubt in my mind; his production is next level [and he has] an extraordinary work ethic."

– Just Connor, when asked about his choice to specifically introduce Mayko as "The Young Legend" in episode 096 of vibe.digital's podcast–which features a 30-minute all-original set by Mayko! Check it out:
That's only a sampling of the massive support behind the dude.
You see—I used "awe-stricken" earlier because I honestly can't think of a single track that Mayko put out that did not render me awe-stricken. And it's not just his originals that will captivate you—his (re)mixes are also phenomenal. In fact, my introduction to Mayko was through that aforementioned all-original mix for vibe.digital's podcast, and I haven't been able to stop to him listening since.
I can only hope to one day be able to go to a Mayko event; it will certainly be the best night at the club I'll ever have.
Keep in Touch With Mayko:
You can connect with the Mayko on social media and through his solo.to page here.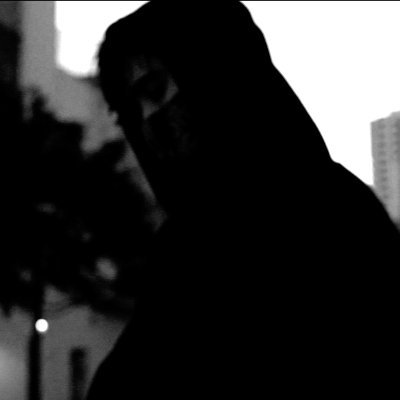 2022's EP to Cross Oceans For: THE HARA's we all wear black.
Listen—I love rock music. I always have. Hell, growing up, I was the kid wearing tour shirts from the concerts I missed school for in class the next day, forgetting I was supposed to be "sick", again, and again…and again…
My love for rock music may have waxed and waned over the years, but it has always been a constant in my life. In adulthood, I can pinpoint two definitive moments where my love for rock was renewed on a transformative level.
The first was when my mind was absolutely blown by those "weird spacemen" (STARSET) that opened for Breaking Benjamin in Poughkeepsie in 2015. (We'll talk about this at a later time, I'm sure).
The second was when I fell down a rabbit hole of THE HARA's music coincidentally the same night as "Fool & The Thief" was released. My first track was "Red Mist" followed by "Friends" followed by their entire discography… twice? …More? Probably more.
Then I logged onto Twitter and found out that in mere hours, I'd get even more HARA.
But, it was even better than that: they weren't just releasing new music, they were on tour.
In the UK, sure, but there was a tour.
Needless to say, I did what any sane 25-year-old New Yorker would do, and I decided to oh-so casually hop across the pond in order to attend their concert.
THE HARA's concert.
Yes, THE HARA is that good.
Don't believe me? See for yourself:
Check out a live gig:
There's just a certain energy about THE HARA—and their music—that's refreshing, and honestly kind of addictive. Their music hits the same way that rock music did when I was a kid—it's incredible. Electric. They've got grit and they've got soul. Their writing is clever, earnest… and their instrumentals are simply phenomenal. Somehow–they're even better live, in my opinion. I never had so much fun at a show before in my life.
Best of all, they aren't a band where you listen to one track, you've heard them all.
You're going to want to keep listening.
This is especially true for the latest three singles they've released from their upcoming EP, we all wear black. "Fool & The Thief", "Die in the City" and "Domino" all show off that the band means business. I simply cannot wait for this EP.
Keep an eye out for this drop. I can already tell it will be worth crossing oceans for.
(After all, it was hearing the EP's "Fool & The Thief", that got me to book the flight…)
Thankfully, you won't have to– it will be streaming everywhere on 01 April 2022; preorders for hard copies here.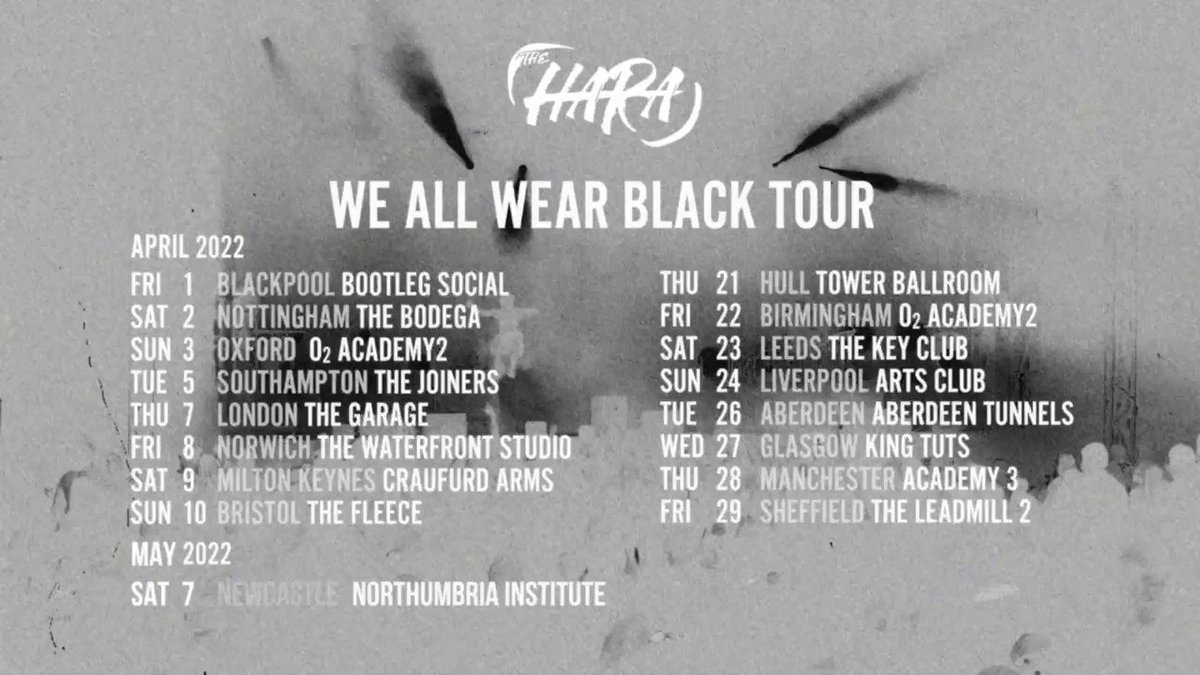 And yes, before you ask, I am, in fact, planning another transatlantic journey in order to attend a we all wear black show. Fingers crossed it works out.
(I had that great of a time last year.)
Get your tickets on the band's website here.
Keep in Touch with THE HARA:
You can connect with the band on social media and through their website.
---
Looking for More Tunes?
Check out the Release Radar's Greatest Hits playlist!
About Author