Acclaimed indie-pop duo Flora Cash, comprised of Swedish-American husband-and-wife Shpresa Lleshaj and Cole Randall, has just unveiled their latest single, "Holy Water." This release is accompanied by a heartfelt music video directed and edited by the band themselves.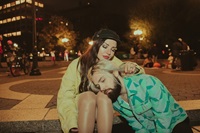 Flora Cash's "Holy Water" presents a unique perspective on love, emphasizing its role as a force that binds people in ways that can be almost otherworldly. The song combines the lyrical depth reminiscent of romantic poets with a fresh, modern approach, narrating a story of two souls drawn together by what feels like fate, hinting at a deeper, mystical connection.
Behind The Scenes
The song's production adds a layer of emotional depth to the narrative. Djordje Milanovic's mournful viola performance sets the initial tone of longing, while the teetering piano adds complexity as the track progresses. Shpresa's raw and heartfelt vocal delivery carries the emotional weight of the song, building towards an intense peak.
The story of Flora Cash is a testament to love, resilience, and artistic success. Shpresa Lleshaj's escape from war-torn Kosovo and Cole Randall's tumultuous upbringing intersected through music on SoundCloud in 2012. Their love story culminated in marriage in 2013 and the birth of Flora Cash in Minneapolis. Despite their humble beginnings, their dedication to music and each other ultimately led to international recognition.
The duo's breakthrough moment came with "You're Somebody Else," which soared on alternative radio, reached #1, and became a TikTok sensation. The song achieved Platinum certification in the US and Gold and Platinum certifications globally.
Continuing the Journey
Flora Cash's journey continued with the release of albums like "Baby, It's Okay" in March 2020 and the critically acclaimed "Our Generation" in October 2021. The single "Soul Mate" from the latter album struck a chord with fans, earning millions of streams and views. Their ability to connect with audiences on a deeply emotional level remains a defining feature of their music.
With the release of "HOLY WATER" and "i'm tired," Flora Cash maintains their exploration of love and life, exemplifying strength in vulnerability. Their journey, from humble beginnings to international acclaim, showcases the transformative power of love and music.
Connect with Flora Cash:
Website | YouTube | Facebook | Instagram | Twitter
Are you enjoying MendoWerks Magazine? Receive updates each week directly in your inbox. Sign up for the newsletter here.
About Author