With his latest film 'Flora and Son,' Irish director John Carney continues to build on the themes that have brought him success. Over the last two decades, the former bass player for The Frames has earned raves with movies like "Once" and "Sing Street." His newest is a little more rough around the edges, but still illustrates the transformative properties of song.
Flora (Eve Hewson) is a single mother living in Dublin. When it comes to luck, she just doesn't have any. Her teenage son Max (Orén Kinlan) is a problem child, but Flora isn't much better. Life has been a series of mistakes and disappointments and when she gets a warning that Max needs to clean up his act or risk serious trouble, her maternal instincts finally start to surface.
After rescuing a guitar from a dumpster, she has it cleaned up and brings it home thinking that it might be the key to get Max to settle down. The guitar doesn't interest him much, but Flora takes a surprising shine to it. Her passion is sparked after hiring a musician in Los Angeles named Jeff (Gordon-Levitt) to teach her how to play with lessons over Zoom. The distance between them is given a visual assist by Carney who often magically takes Gordon-Levitt out of the computer screen and drops him into Flora's kitchen or rooftop patio, adding an intimacy that we otherwise would miss out on.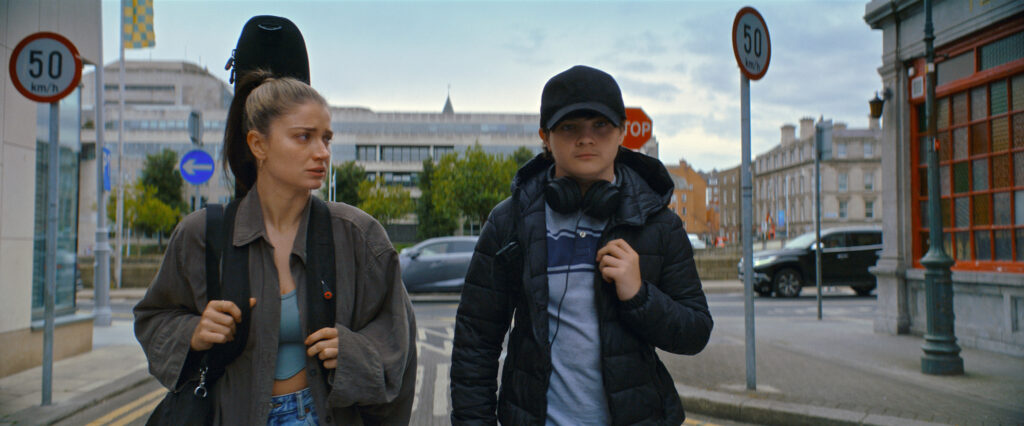 The Verdict
Let's get one thing clear: Eve Hewson is a star. (Her musical abilities come honest, her dad is a guy named Bono you may have heard of.) She gives this character such a distinctive personality that is simultaneously off-putting and charming. Flora is a woman who has built up walls around her to keep people out. She's caustic and selfish and, because she had a child so young, never really got a chance to grow up. The way that Flora softens thanks to her musical lessons and starts to take life more seriously is a joy to watch.
Max isn't a bad kid, he's just never really had proper guidance. Flora sends him to be with his dad Ian (Jack Reynor) when she can't handle him. He just gets bounced around between two people who really never knew how to be parents.
As Flora starts to channel her emotions into songwriting, Max starts using GarageBand to produce tracks. With Jeff's encouragement, they target a local music competition. If you've seen 'Sing Street' in particular, you know what Carney can do best on screen with musical performances. The end result is, quite simply delightful.
While younger teens might get a lot out of this, be warned that the language is pretty rough. There is one shouting exchange between the two of them early on that even surprised me. But, 'Flora and Son' is genuinely heartwarming in the end and a powerful testament to the power of music to make our lives better.
Grade: A-
How to Watch 'Flora and Son'
'Flora and Son' opens today in select theaters across the United States. It will begin streaming globally (except for Ireland) on Apple TV+ on Friday, September 29.
Looking for more viewing recommendations? Check out our September 2023 streaming preview!
About Author