Canadian rock band Arkells has dropped their latest album Laundry Pile on Virgin Music. The release is accompanied by a heartfelt music video for the album's closing track, "Quiet Love." The song delves into the theme of longing for a love that's beyond one's control. Preceding this release, the band unveiled the title track, "Laundry Pile," and the summer-infused anthem "Skin."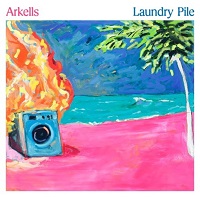 Frontman Max Kerman describes "Laundry Pile" as their most raw and intimate work to date, emphasizing its imperfections as a deliberate attempt to capture unfiltered honesty in their music.
The album's creation was an unexpected journey for the band, who stumbled upon new material that ignited their creative fire, resulting in a profoundly connected experience both with the music and each other.
New Approach For Arkells
Departing from their typically spirited and anthemic sound Laundry Pile takes a more personal and introspective turn. Material on the album offers a singular listening experience that aligns with the singer-songwriter tradition.
Arkells are set to embark on their "At Your Service" fall tour, promising a high-energy performance that incorporates elements of their new album into their signature live set. The tour kicks off on September 29th in Philadelphia and features special guests Robert DeLong and K.Flay.
Laundry Pile is available for streaming, and fans can also purchase it on vinyl and CD. The album includes tracks like "Life Is," "Wash Away," "Beginner's Mind," and "Quiet Love." Arkells, winners of the 2023 JUNO Award for "Group of the Year," continue to be a driving force in the music scene. The band consistently delivers fresh and passionate live performances that resonate with their dedicated fan base.
Connect with the Arkells:
Website | Facebook | Instagram | Twitter | Tik Tok
Are you enjoying MendoWerks Magazine? Receive updates each week directly in your inbox. Sign up for the newsletter here.
About Author