This time next week, a curious new UK-based alternative music festival, Misery Loves Company, will be taking place. A celebration of diversity, inclusivity, and of course, great live music, MLC is definitely worth considering as a late edition to your summer festival schedule.
Why? For starters, the festival has 5 stages across 4 venues and features a line-up of over 40 bands hailing from all points on the heavy metal-alternative rock-emo-and-beyond spectrum.
So listen up, all you current and "former" emo kids– you lot in particular are going to want to pay attention to this.
Below, you will find all the need-to-know information about the festival. You will also find a list of a few artists that we feel are particularly noteworthy.
Go ahead, read on, and get a taste for what to expect in Bristol next weekend.
Misery Loves Company: Bristol's brand new alternative festival.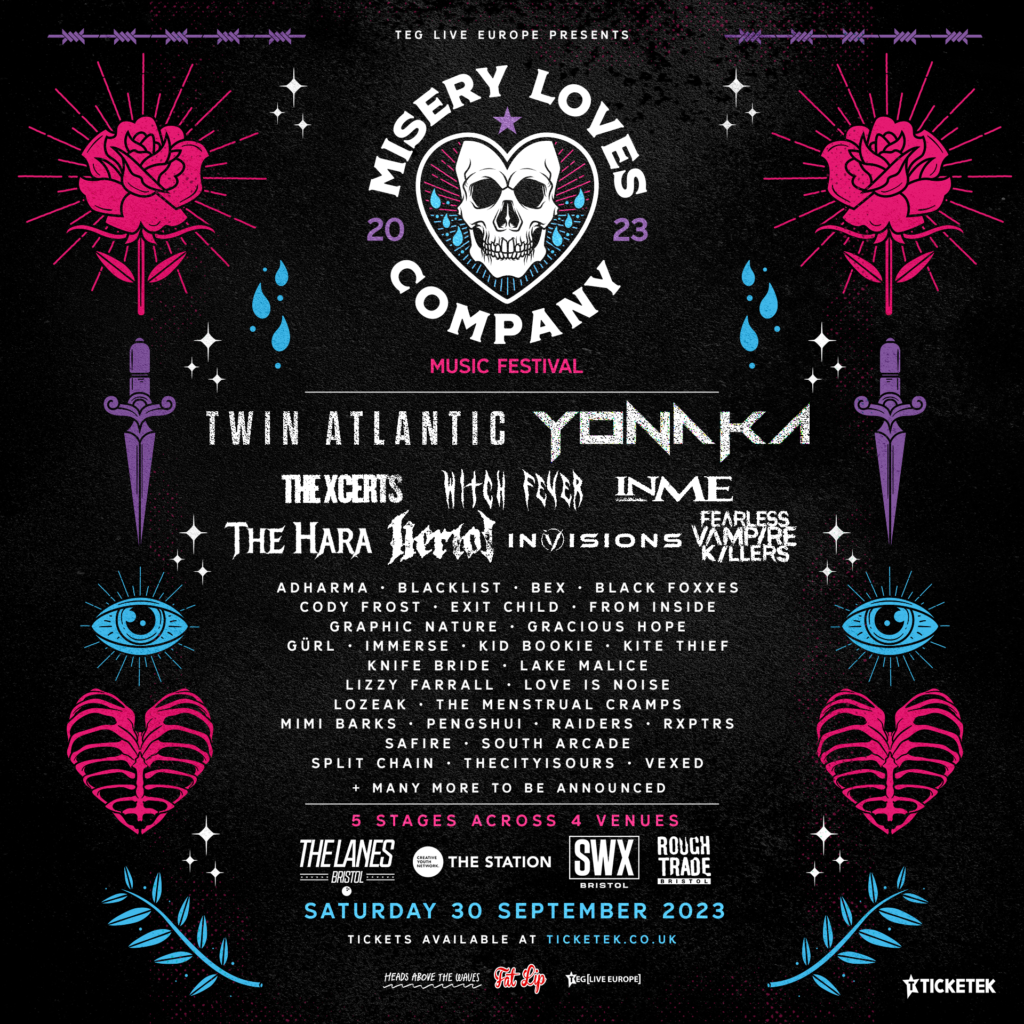 The festival is taking place on September 30th, 2023; the music starts at noon, so make sure to get to town with time to spare.
Find the stages at the following Bristol venues:
– The Station 12:00-22:00
– The Lanes 12:00 – 22:00
– Rough Trade 12:00 – 22:00
– SWX 14:00-22:00
You can get your tickets here.
Misery Loves Company: an alternative festival founded with a mission
Misery Loves Company is a celebration of many things; speaking on this during an interview about the festival's initial launch back in March, festival promoter Ian Chadderton told DistortedSoundMag: "The Bristol alternative scene means the world to me. It accepted me with open arms and everything I do is a testament to how I've grown over the last decade whilst immersing myself within this wonderful city. This festival is a chance for me to show the world why I fell in love with Bristol and a chance for me to give something back to the place that gave me everything."
Additionally, the festival intends to create a much-needed, genuinely inclusive space within alternative music.
The first step towards accomplishing this was accomplished through their curation of a diverse lineup that better represents the scene as it is in reality–while also featuring emo music in its true form, which is as diverse as the scene itself is.
This isn't your standard pop-punk heavy 'emo nite'; this is the real deal.
Phoebe Jones, marketing assistant at TEG Live Europe, explained this mission to Bristol 24/7 in an interview back in May: "Growing up, you had Paramore and Evanescence on the bill and that was pretty much it. So it's really cool to be working on a festival that has such a core ethos of representation. We're aiming for 50 per cent to include a female or a non-binary member."
She continues on to explain why this is important.
"It's […] because if you don't have those inspirations to look up to, if you don't see a female fronted band or with a band with anyone that looks like you, then you won't have those people being inspired to start bands in the first place. We really are at a point where girls are killing it, it's fantastic, so we wanted this at the forefront of of the festival."
Plan Your Festival Experience
You can find all of the need-to-know information about the various stages, their line-ups, and set times, below.
Note: the acoustic stage will be found at The Station.
Bristol's Misery Loves Company Festival: A Listening Guide
When the second wave of Misery Loves Company artists was announced, we first noticed some familiar names from our time at SXSW getting the attention they deserve: Kid Bookie & THE HARA.
Even better, both artists will be playing The Station's main stage.
Kid Bookie
"A powerhouse of a performer, you will never be disappointed in Kid Bookie's show. He's had features with the likes of Corey Taylor, Wheatus, Good Charlotte and Beartooth; joining the ranks of his predecessors and shifting the paradigm." – MLC
Lucky for you, Kid Bookie has a massive discography to explore prior to the festival. You can start with his 2022 EP, Mass Hysteria, or go a bit deeper and start with his 2021 album, Cheaper Than Therapy.
Or just hit shuffle on his Spotify page–you really can't go wrong.
Explore Kid Bookie's full discography on Spotify:
---
Get lost in the world of THE HARA on Spotify:
---
There are numerous other underappreciated artists on the lineup as well, many of which were new to us before this festival's lineup dropped.
After spending some time with the Misery Loves Company Spotify playlist, we came up with a short list of a few more must-see acts.
Check them out.
SAFIRE
"SAFIRE's music focuses on female empowerment, dominance & sexuality.
A multi-talented artist, SAFIRE's turned heads of underground blogs & BBCR1. She SMASHED her 2000Trees debut." – MLC
She's put out a handful of killer singles this year, including "MERCY", "PARADISE", and "Angels & Demons".
Make sure to give them a listen.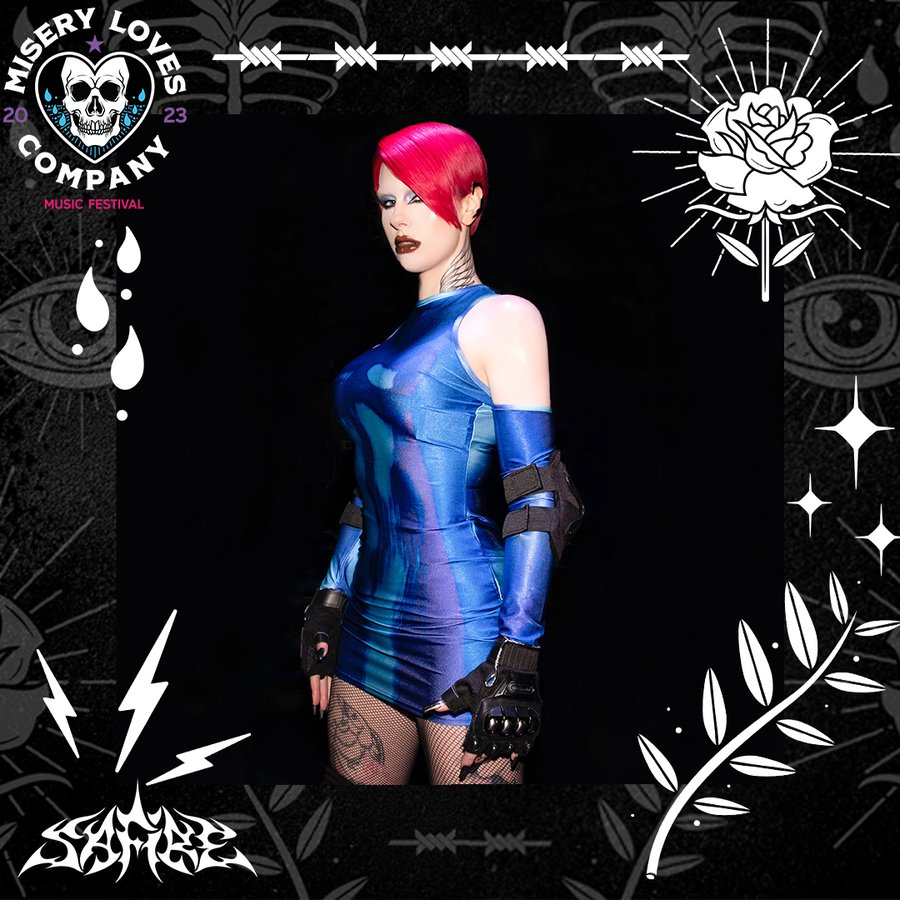 Beware the woman who has nothing to lose:
---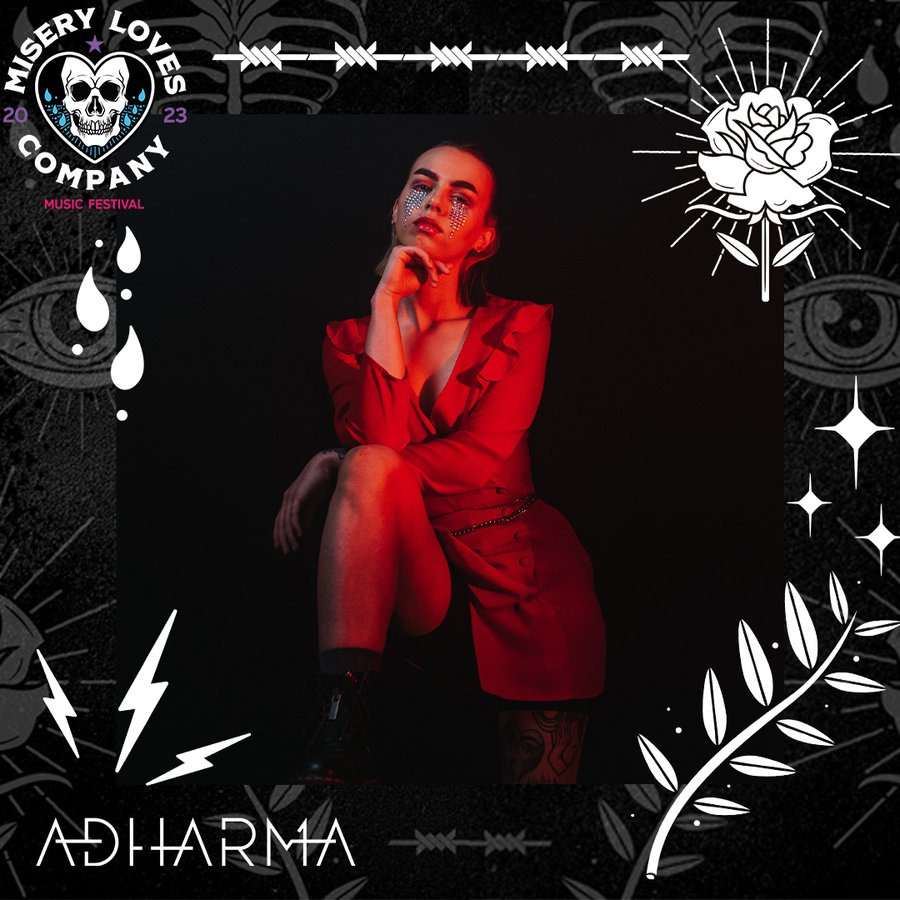 ADHARMA
"The queen of djent-pop is coming to Bristol!
Adharma's music tells personal stories of violence, misogyny & sexuality with big riffs, dream synths & groovy beats. Her debut album, Mirror Mirror, gained over 50,000 streams." – MLC
Get ready for ADHARMA's set by checking out her debut 2022 album. We're particularly into the tracks "Lovesick" and "Jealousy Don't Look Good On You".
Feel some big emotions with ADHARMA:
---
Blacklist
"Imagine the love child of Muse & Foo Fighters brought kicking & screaming into the world by Royal Blood, then you'll have Bristol-based alt-rock band Blacklist.
Expect Dynamic bass lines & catchy hooks with imaginative & emotive lyrics." -MLC
While they haven't put anything out yet this year, we can't get enough of Blacklist's 2021 EP, Superpredator.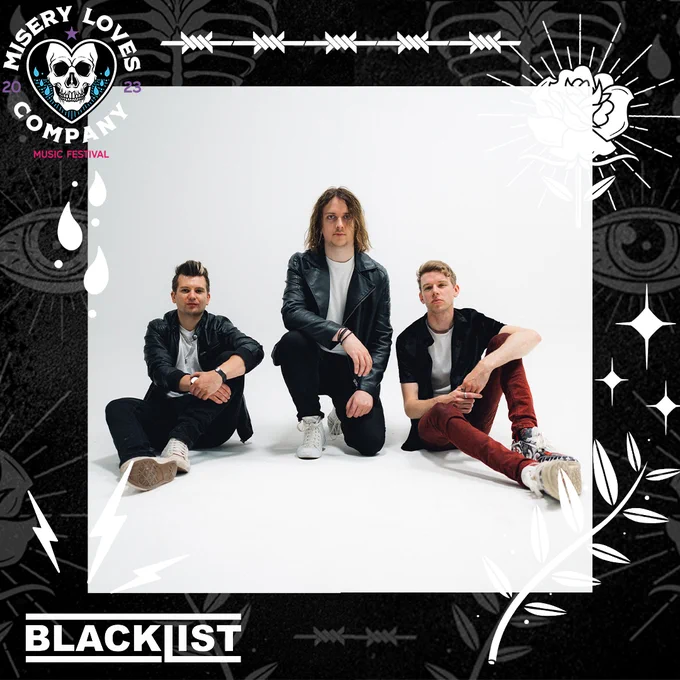 Get ready to rock with Blacklist:
---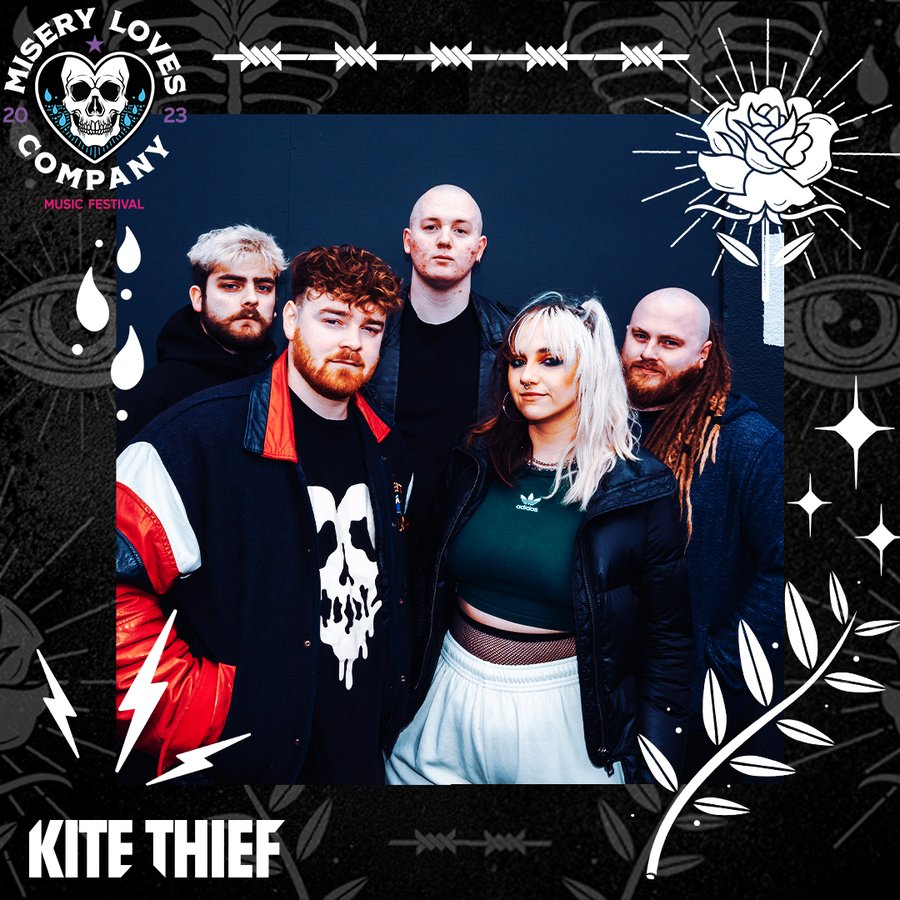 Kite Thief
"Kite Thief is a high-voltage expanse of catharsis; an ecstatic space of rage, and a playful moment in time to lose yourself.
Their melting pot of intoxicating melodies, pummelling rhythms & unrelenting riffs forges a captivating vibration.
Influenced by the likes of Spiritbox, Holding Absence and Vukovi, Kite Thief's music invites you to face your darkness, whilst empowering through acceptance, understanding, love and having fun! – MLC
Get to know Kite Thief by checking out their recent releases, "Goldsick" and "The Tide".
Disrupt toxic social norms with Kite Thief:
---
Do you want to experience the full range of sound coming from Misery Loves Company 2023?
Check out the official Festival playlist on Spotify, below.
---
Keep up with all the latest Festival updates–
Follow the Misery Loves Company Festival online:
Facebook | Instagram | Twitter | Website
Are you enjoying MendoWerks Magazine? Receive updates each week directly in your inbox. Sign up for the newsletter here. Find our playlist here. Follow us on social media.
About Author