Full disclosure: the first time I saw the trailer for 'Past Lives' in the theater, I began sobbing uncontrollably. Soundtracked by Cat Power's gorgeous cover of Rihanna's "Stay," I was instantly transfixed by the song's lyrics combined with the film's sumptuous visuals.
Not really sure how to feel about it
Something in the way you move
Makes me feel like I can't live without you
While the song does not appear in the actual movie, "Stay" perfectly accompanies 'Past Lives,' the first feature film from Korean-Canadian playwright and director Celine Song. It's a story so intensely personal and lived-in, that it doesn't seem possible that it is her first movie.
It tells the story of Nora (Greta Lee) and Hae Sung (Teo Yoo) – two childhood friends from South Korea who fell out of touch when Nora's family immigrated to Canada. We follow as they reconnect at different points in their adult lives.
We're all impacted differently by our memories.
In Hae Sung's case, the way that he remembers Nora from when they were young has never left him. When they first are in contact again in their twenties, they are in very different places. Nora is in New York trying to find success as a writer while Hae Sung is finishing up his engineering studies in Korea. They begin talking to each other again over Skype, but Nora struggles with the intense feelings their conversations stir up inside her knowing that they are literally worlds apart.
By the time they cross paths again in their thirties, life is even more different between them. Nora is married to a fellow writer named Arthur (John Magaro) and Hae Sung's visit to New York City marks a potentially significant conflict for her relationship.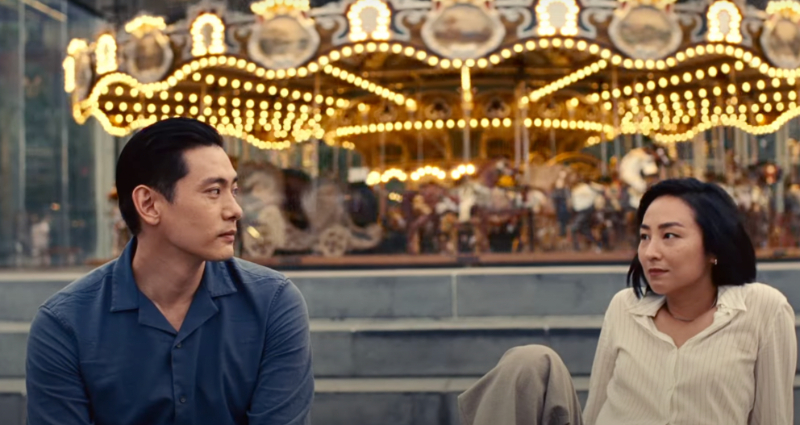 The Verdict
Based on how I reacted to the trailer initially, I was prepared to cry through this entire movie. And then I was somewhat surprised when that didn't happen. I was fully invested in the story as it went along, but it was less emotional than I expected.
Until, that is, the final 20 minutes of the film.
There is a quiet brilliance in Song's storytelling and the casting only enhances it. Both leads are remarkable, but Teo Yoo is a revelation. He somehow expresses the desperation of longing and all the conflict of a lost love with a simple glance. His posture and anxious body language tell his story in ways the dialogue can only hint at. These final moments brought the tears, big time.
To accent the stellar performances and sharp technical aspects, 'Past Lives' is scored by Christopher Bear and Daniel Rossen of Grizzly Bear. Sharon Van Etten and Zachary Dawes also contribute an beautiful original tune called "Quiet Eyes" that plays over the end credits and is a fine soundtrack to finish crying to!
Yes, the pacing of 'Past Lives' is languid. I anticipate that those who don't like the film will argue that it's just too slow. But if you give in to its charming honesty, it's hard to resist.
Simply put, Celine Song has crafted one of the finest debut films in recent memory.
Highly recommended. Grade: A
How to Watch 'Past Lives'
This weekend, 'Past Lives' expands to more theaters in New York and Los Angeles. It also opens in Austin, Boston, Chicago, San Francisco, and Washington, D.C. The film will continue to expand to over 80 locations on June 16.
After its theatrical and eventual VOD release, the film should premiere for streaming in late 2023 or early 2024 on Showtime and Paramount+.
Looking for more movie recommendations? Check out our May streaming preview!
About Author