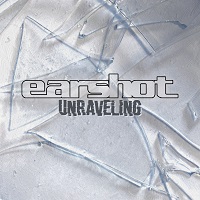 With "Unraveling," Earshot solidifies its position as a formidable presence in the music industry. The song is a testament to the band's unwavering commitment to pushing creative boundaries and exploring new sonic territories. Wil Martin's captivating vocals, complemented by Aaron Fink's masterful guitar work, Andy Stafford's melodic prowess, John Novak's pulsating basslines, and Michael Sylvia's driving drumming, create a captivating musical landscape that grabs hold of listeners from the first note.
"Unraveling" explores the intricacies of the human experience. The song's thought-provoking lyrics and emotionally charged melodies resonate deeply. Earshot refuses to conform to passing trends and instead delivers music that speaks directly to the hearts of its audience.
Earshot "Unraveling"
This latest release is yet another chapter in Earshot's remarkable musical journey. Their legacy spans over two decades, marked by a consistent dedication to their craft. "Unraveling" serves as a testament to their continued artistic growth and showcases their enduring creativity. Frontman Wil Martin had this to say about the track.
This song you're either going to LOVE it or HATE it. It's a ride. It keeps you on your toes the whole way through. The guitar work, the lyrics, and melody are so visceral and relatable. And then comes the chorus….it just hits you right in the face.

-Wil Martin – Earshot vocals/guitar
Earshot originally formed in 1999 and signed a major label deal with Warner Brothers in 2002. The release of their debut album Letting Go followed shortly afterwards. The release of their sophomore album Two in 2004 spawned the popular "Wait". The success of this material led to sold-out tours with bands like Staind, Shinedown, and Stone Temple Pilots.
The band parted ways with WB in 2005 and after the release of their 3rd studio album in 2007, took more than a decade-long break. Martin reformed the group in 2019 with a new supporting cast and has been building on their legacy ever since. Stay tuned for more announcements and follow along on social media for updates.
Connect with Earshot:
Website | YouTube | Facebook | Instagram | Twitter
Are you enjoying MendoWerks Magazine? Receive updates each week directly in your inbox. Sign up for the newsletter here.
About Author