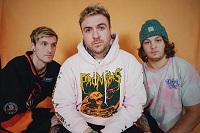 Get ready to rock out with the pop-punk rockers Brooklane as they've released "Stay Toxic" from their highly anticipated upcoming EP. These North Dakota natives have teamed up with 408, resulting in a captivating musical experience that is sure to leave you asking where you can pre-save the new album. Produced by the esteemed Andrew Wade, he's known for his work with A Day To Remember, Neck Deep, and Wage War.
Brooklane's "Stay Toxic" EP is made up of five captivating songs. The title track stands out as the band's third official single. With this release, Brooklane fearlessly dives into the depths of a toxic relationship, exposing the raw struggles faced within it. Through their vulnerable lyrics, they provide a relatable narrative that resonates with anyone who has experienced the turmoil of such connections.
Brooklane has been making waves in the music industry in recent years. They've signed to Adventure Cat Records under KMGMT. You may recognize them as the same label that represents Neck Deep, Stand Atlantic, and many other incredible acts.
Collaboration With 408
Joining forces with Brooklane on "Stay Toxic" is rising stars, 408. Drawing inspiration from the late 90s and early 2000s pop-punk sound, 408 infuses their music with fresh elements of EDM, hip-hop, and electronica, resulting in a truly original and captivating sound. Previous artists who have collaborated with 408 include notable musicians such as Kellin Quinn, Taylor Acorn, and Magnolia Park.
With "Stay Toxic" prepare yourself for an exhilarating musical journey as Brooklane and 408 combine their talents. This powerful collaboration is just a taste of what's to come as Brooklane releases the remaining tracks from their EP throughout the summer of 2023. The question is, is Brooklane on a path to becoming the next big thing on the pop-punk scene?
Their infectious energy and captivating performances have garnered the attention of millions, including The Chainsmokers, UFC, and countless others. Additionally, the band recently completed their first headlining national tour, solidifying their status as an act to watch. Stay tuned and follow along on social media for more updates.
Connect with Brooklane:
Website | YouTube | Facebook | Instagram | Twitter
Are you enjoying MendoWerks Magazine? Receive updates each week directly in your inbox. Sign up for the newsletter here.
About Author