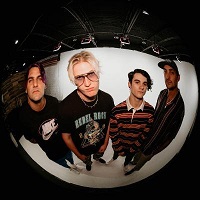 Rising alt/pop-punk band 408 has released its debut album and it's chock full of special guests. Out Of It is available everywhere you listen to music via BreakSilence Recordings/Regime Music Group.
408 worked with award-winning producer/engineer Andrew Wade and Andy Karpovck (A Day To Remember, Neck Deep) at The Audio Compound in Orlando, Florida. Keep your eye out for killer collaborations with Kellin Quinn (Sleeping With Sirens), Aaron Gillespie (Underoath), Josh Robers (Magnolia Park), Titus, and Taylor Acorn.
408's Out Of It
Frontman Mark Faroudi had this to say about Out Of It.
"This is by far the band's most adventurous and ambitious effort. Our sound incorporates a little bit of everything and the album represents that. We don't fit into the normal boundaries that are set by most artists. We did some writing sessions in Nashville with Nick Bailey (Machine Gun Kelly, jxdn), who is a fantastic writer, to help us step outside of our comfort zone. When we hit the studio, we recorded with Andrew Wade and Andy Karpovck to really harness our sound."

-Mark Faroudi
When Faroudi states that 408s sound reflects a little bit of everything, he's not kidding. They've embraced their pop-punk roots but incorporate elements of EDM, hip-hop, and electronica. The result is a vibe that is familiar but fresh.
The band has kicked off a nationwide tour with MAKEOUT, Don't Panic & Morning In May that will run through November 20th in Chicago, Illinois. For more information stop by their Facebook page or follow along on Instagram and Tik Tok.
408 Tour Dates
October 31st – Star Theater Portland, OR
November 1st – The Funhouse Seattle, WA
November 4th – Lefty's Live Des Moines, IA
November 6th – Vivo Event Center Kansas City, MO
November 7th – Amplified Live Dallas, TX
November 8th – Boozers Corpus Christi, TX
November 9th – Vibes Underground San Antonio, TX
November 10th – Scout Bar Houston, TX
November 11th – Furnace 41 Jonesboro, GA
November 13th – Social Orlando, FL
November 14th – Radio Room Greenville, SC
November 15th – Brickyard Bar Knoxville, TN
November 16th – HMAC Harrisburg, PA
November 17th – Amityville Music Hall Amityville, NY
November 18th – Zen West Baltimore, MD
November 19th – The Outpost Kent, OH
November 20 – Bottom Lounge Chicago, IL
Are you enjoying MendoWerks Magazine? Receive updates each week directly in your inbox. Sign up for the newsletter here.
About Author