The world's favorite genre-defiant artist, Grandson, gave us some huge announcements today: not only did he release his first new single in two years, "Eulogy", but he also announced a massive world tour, which kicks off this May.
Grandson also gave us the title of his second LP, which he has been teasing on social media as "ILYIT" for the past few weeks, leaving fans to wonder what exactly he's been up to lately.
But, the news finally broke–
Grandkids, it's time to get HYPED!
Read on to find out all the details.
Stream the New Single, "Eulogy", now.
Grandson's widely-anticipated new song, "Eulogy", can be found across streaming platforms as of this morning. It is the first single from his upcoming LP, I LOVE YOU, I'M TRYING, which will be released later this year. According to the artist, it is the second-ever Grandson song with no singing on it, except for the outro, which features vocals from Wafia.
Grandson slowly unveiled his plans throughout the past month, starting with a TikTok snippet that set social media on fire. Fans spent the last few weeks guessing what "ILYIT" refers to, creating artwork, companion TikToks, and more.
Understand the hype for yourself by streaming "Eulogy" on Spotify, below:
Grandson himself describes the song as "pure sad bars", and that's a pretty accurate description.
"Eulogy" is the perfect song to vibe along to while we wait out the rest of the winter, or any other time where we need to try and fight off our own bleak thoughts. It provides a metaphorical nod of acknowledgement–of knowing–for those times when we feel like "growing up ain't like how [we] pictured it." As such, Grandson continues to be a voice for our entire disillusioned generation.
The whole track is filled with punchy and creative (yet painfully real) lines that Grandson is known for. One of my personal favorites is: "I'm Cinderella after the ball / I'm not sure anything matters at all", but with each additional listen, different lines pop out at me. The replay value is pretty high. Spend some time with this one.
All in all– "Eulogy" was well worth the wait, and we are quite excited to see what 2023 has in store for Grandson.
Find Grandson On Tour, at a City Near You: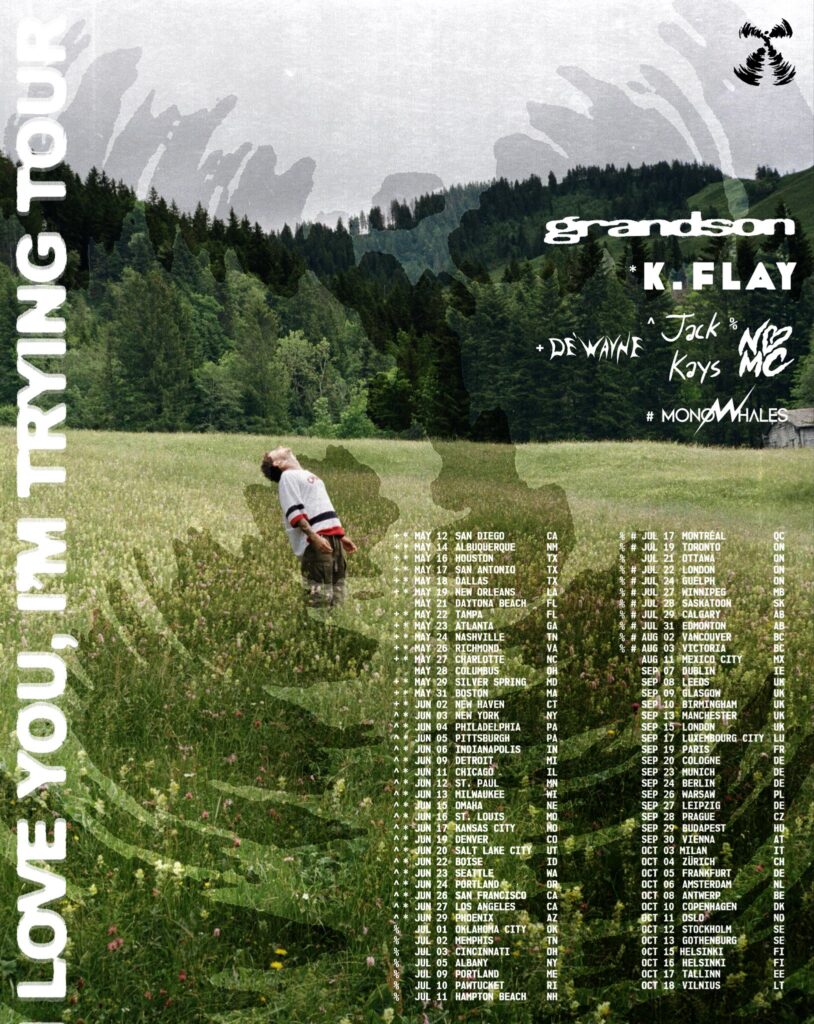 Grandon's upcoming I LOVE YOU, I'M TRYING world tour will be kicking off in May. He will be making his way through the US, with stops in Canada, Mexico, and throughout Europe as well.
His tour mates include K.Flay, Jack Kays, De'Wayne, No Love for the Middle Child, and MONOWHALES.
Tickets go on sale on March 3rd. They are available for pre-sale now. Find links for each individual date on the artist's website.
Grandson released a pre-sale code on his social media earlier today.
(Spoiler: it's "ILYIT".)
Can't make it to a gig? Check out his "DOAO: The Movie" uploads on YouTube, which features live content from the unveiling of his last LP, Death of an Optimist. You can find part one, below.
---
Unfamiliar? Meet Grandson: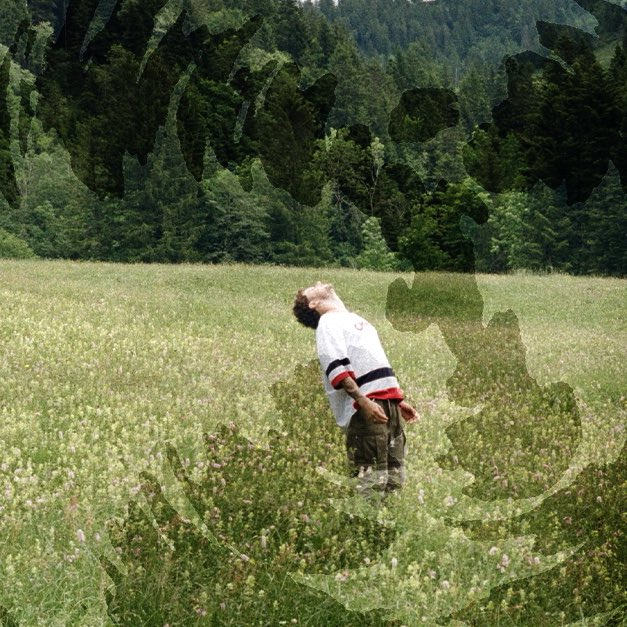 "Grandson is the pseudonym of Canadian/American alternative artist Jordan Benjamin. He takes elements of his rock and roll, hip hop and electronic music roots and combines them to tell stories of reclaiming power over one's life, confronting social issues facing his generation, and opening up about struggles with addiction and mental health. Since releasing his Modern Tragedy EP series, grandson has toured extensively across North America, Russia, and Europe, accumulated hundreds of millions of streams online, and received co-signs from the biggest names in rock and roll and progressive politics, from Tom Morello to Bernie Sanders. Now, grandson has released his debut album, Death Of An Optimist. This body of work conflates personal anxieties with political realities. As the protagonist, grandson simultaneously explores the dark underbelly of his unrelenting optimism for change, by creating an antagonist, X. An ambitious project, grandson delivers a subtle A-side/B-side structure totaling twelve tracks, following grandson and X's dueling world views. Through DOAO, grandson delivers an overwhelming urgency to do something, 'After the hardest year of our lives, it's time to confront the reflection staring back at you, because only in doing so can you know who you truly are,' he says. 'Showcasing a conflicted soul for intense scrutiny has the benefit of not dictating what is right or wrong. It just shows that we're in this together.'"

-artist's Spotify
Connect with Grandson:
---
Are you enjoying MendoWerks Magazine? Receive updates each week directly in your inbox. Sign up for the newsletter here.
About Author