Denver-based punk rockers Bury Mia have been on a mission to bring their unique sound to audiences far and wide. The title of their new single is a mouthful and is a must-listen for punk rock fans. Check out "We've Been Trying To Reach You About Your Car's Extended Warranty" down below. Let us know your thoughts in the comment section.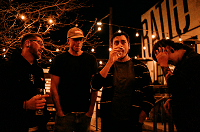 Bassist Devin Martinez describes "Car Warranty" as a product of a period of mental instability. The song is about finding hope and light in the midst of darkness and never giving up on trying to find the "blue sky." The track features powerful instrumentals and poignant lyrics that will have you singing along.
Getting To Know Bury Mia
Since their inception, Bury Mia has been steadily gaining momentum. Over the past few years, they have twice toured the West Coast and have performed at iconic Denver venues, including The Ogden Theatre and The Gothic. Their hard work has paid off with the band headlining a successful show at The Fox Theatre in Boulder in 2022.
Bury Mia's sound is big, loud, and undeniably punk. Drummer Marcus Allen-Hille notes that the band's music demands success, and there's something special about their sound that reinvents the genre. It's authentic and fresh, and there's nothing quite like it out there right now.
A Band Of Passionate Musicians
The band's passion for their music is evident in every note they play. They are focused on introducing their brand of punk rock music into the world. Their lineup consists of Justin O'Neal on vocals and guitar, Devin Martinez on bass and vocals, Stevan Alt on guitar, and Marcus Allen-Hille on drums, Bury Mia is a band to keep your eye on.
Don't miss your chance to see Bury Mia live at their upcoming show at Globe Hall in Denver on March 17th. Connect with Bury Mia at their official website or follow along on Instagram and Twitter.
Are you enjoying MendoWerks Magazine? Receive updates each week directly in your inbox. Sign up for the newsletter here.
About Author