The crowd gathered in front of the Chevy Park stage at the Great New York State Fair in Syracuse, NY was brought to life last Monday night, thanks to Grandson, a Canadian-American alt rocker-slash-activist, whose socially-conscious music is equal parts empowering and electrifying.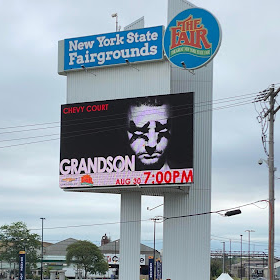 It seems like Grandson, also known as Jordan Benjamin, is everywhere lately. Not only has he collaborated with countless artists like Mike Shinoda, Kennyhoopla, K.Flay, and Vic Mensa, but he also has two tracks featured in the latest Suicide Squad film. Grandson is also playing festivals like Summerfest, Firefly and Welcome to Rockville this year.
Clearly, Grandson isn't stopping anytime soon: he not only has several upcoming collaborations with artists like MISSIO and KID BRUNSWICK, but is also supporting The Deftones on their EU tour, which is scheduled for 2022.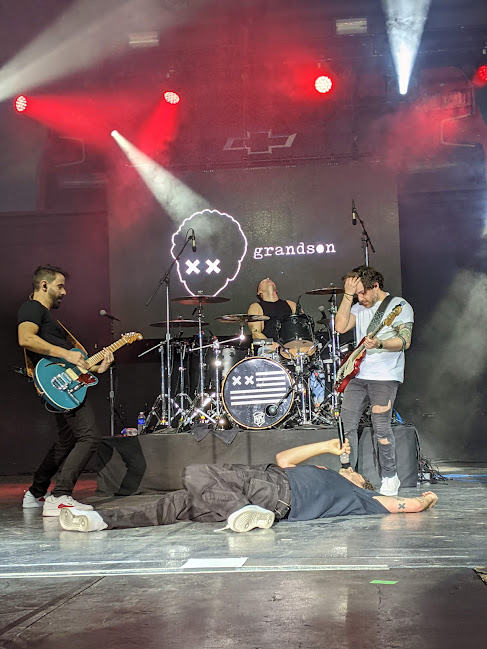 Supported on tour by Renzo Bravo (bass, keyboard), Ramon Blanco (guitar) and David Rehmann (drums), the energy that all four of the guys behind Grandson bring to the stage is explosive. Seamlessly blending together influences from hip hop, punk rock, and edm, they certainly are the future of alternative music. Watching them perform was exhilarating.
It took this writer a literal week to recover.
Recreate the experience for yourself with the Spotify playlist below, which contains every song performed at the show.
Grandson Goes Live with Syracuse Radio
Before the show, Grandson spoke with local radio station 95X live on IGTV.
Check out the interview, below, and listen to Grandson talk about how touring has been going, coping with the pandemic, Suicide Squad, and much, much more.
The New York State Fair, but a National Following
The fair draws a large, diverse crowd every year, but Grandson's audience had something special. Among the typical fair-goers were diehard "grandkids" from across the state (and country) who were happy to cross any distance to attend a free Grandson show.
One especially dedicated "grandkid", Angel Haines, a former concert photographer and aspiring tour manager, has actually been on a Grandson tour of their own for the past two weeks. They have been encouraging other fans to join in on the concert fun by coordinating fan meetups at each show they have attended. Angel has reached out to fans across social media platforms and has created dedicated group chats for each show, wanting to make sure no grandkid is left behind.
"I wouldn't trade these experiences for anything"
Angel Haines, Sept 2021
Angel's adventures, including getting frequent covid tests to ensure everyone stays safe, have been fully documented on Twitter.
i started this 2 week run with a @grandson show. since then i've seen everyone from my favorite rock band to a country artist to a mongolian throat metal band to a band from the '60s to a pop punk festival and it only feels right that i'm ending this trip with another gran show.

— angel haines (@angellhaines) September 9, 2021
Speaking on the experience, Angel said, "Touring is my favorite and seeing Grandson never gets old. But getting to organize these meetups and meet grandkids makes it even more worth it. I know a lot of fandoms say this, but the grandkids and this band and crew really are a family. We've created what I know will be lifelong bonds through his music and I wouldn't trade these experiences or this family for anything."
If you're looking to attend a Grandson show in the future, consider sending Angel a message; you'll be welcomed into the grandkid family with open arms for sure.
Grandson FOMO?
If you're bummed you can't make it to a Grandson show, check out Grandson's Lollapolooza 2021 set, below. Let it fill the void until next time he comes to your city.
Even recorded, the energy coming from the stage is tangible.
Keep in Touch–
Connect with the artist on social media and find his music on all streaming platforms.
Find Grandson's latest tour information, available on his website, here.
About Author