Highly regarded singer-songwriter Ryan Hamilton has announced the release of his newest studio album, 'Haunted By The Holy Ghost.' The album is set to drop on March 10th via Wicked Cool Records. The Fort Worth, Texas musician first gained popularity with his band Smile Smile before releasing his solo debut album, 'Hell of a Day,' in 2015.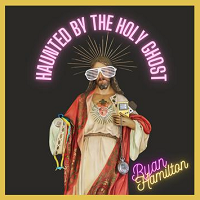 In 2018, he signed to Stevie Van Zandt's label and embarked on a sold-out UK tour with The Alarm. Since then, he has toured across the US and the UK. Highlights include appearances at Adam Duritz's Underwater Sunshine festival and opening for Jesse Malin at the Bowery Ballroom in NYC.
Getting To Know Ryan Hamilton
Hamilton's previous album, 'This Is The Sound,' was released in May 2019. It went on to win the 'Independent Music Awards' 'Album of the Year' award. The follow-up, 'Nowhere To Go But Everywhere,' made its way onto multiple Top 10 Official Charts in the UK.
In 2020, he released the chart-topping EP Incommunicado and went on a solo acoustic tour of the UK. His November 2021 release, '1221,' made it into the Top 10 Indie Albums on the Official Charts (UK) and was selected as an Official Record Store Day title, with the exclusive vinyl edition coming out in April 2022.
On The Road
In February 2022, Hamilton completed a string of sold-out shows in the UK and has multiple performances scheduled throughout the year in the UK, US, and at festivals such as Maverick and LeeStock.
He even embarked on a month-long tour of the UK with Warner E. Hodges of Jason & The Scorchers in October 2022. And with the release of 'Haunted By The Holy Ghost' and a full UK/European tour in the spring of 2023, plus additional US shows and festivals throughout the year, it looks to be another busy year for the talented artist.
Stay connected with Hamilton at his official website or follow along on Instagram and Twitter.
Tracklist: Haunted By The Holy Ghost
Asshole
Haunted by the Holy Ghost
Overdose
Paper Planes
On the Edge
Broke My Heart, Fixed My Vision
Absence of Love
Yeah, Whatever
Strange Situation
Sad Bastard Song
Are you enjoying MendoWerks Magazine? Receive updates each week directly in your inbox. Sign up for the newsletter here.
About Author