Punk rock is alive and well in Alberta, Canada, thanks to Trashed Ambulance and their brand new standalone single "Cyntax Error." This track follows their third LP, 2022's critically acclaimed "Future Considerations." The song pays tribute to Thousand Islands Records co-owner and label manager Cynthia Charpentier on the occasion of her 40th birthday.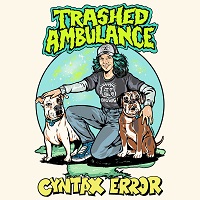 The band describes the song as "an ode to Cynthia for always kicking ass and taking names while being the best gal East of the Saskatchewan River!" Trashed Ambulance is made up of Josh Hauta on guitar/vocals, Jason Ezeard on bass/vocals, and Riley Bourne on drums/vocals. Additional vocals were contributed by Casey Lewis. "Cyntax Error" was recorded at Echo Base Studio in Calgary, Alberta. The track was produced, recorded, engineered, and mixed by Casey Lewis. She's also worked with punk stalwarts like Belvedere.
Trashed Ambulance was formed in 2014 and has persevered through several lineup changes and hangovers. They cite Pulley, Face to Face, and The Flatliners as major influences. The band has shared the stage with punk legends such as Face to Face, Voodoo Glowskulls, and others.
Trashed Ambulance has Western Canadian tour dates on the calendar but no plans to visit the states at the moment. So if you're in the Alberta area and want to hear some gloriously angry yet hopeful punk, be sure to catch Trashed Ambulance on their tour.
Stay connected with the band by visiting the Thousand Island Records website or by following along on Instagram and Twitter.
Are you enjoying MendoWerks Magazine? Receive updates each week directly in your inbox. Sign up for the newsletter here.
About Author