'Ticket to Paradise' was exactly what I thought I was looking for this week: a mindless counterpoint to the terminal frustration of the midterm elections.
British director Ol Parker ('Mamma Mia! Here We Go Again') brings together two of the world's most beautiful people (Julia Roberts & George Clooney) in one of the world's most beautiful places (Bali) to be beautiful together. What more could you want?
A better script for starters.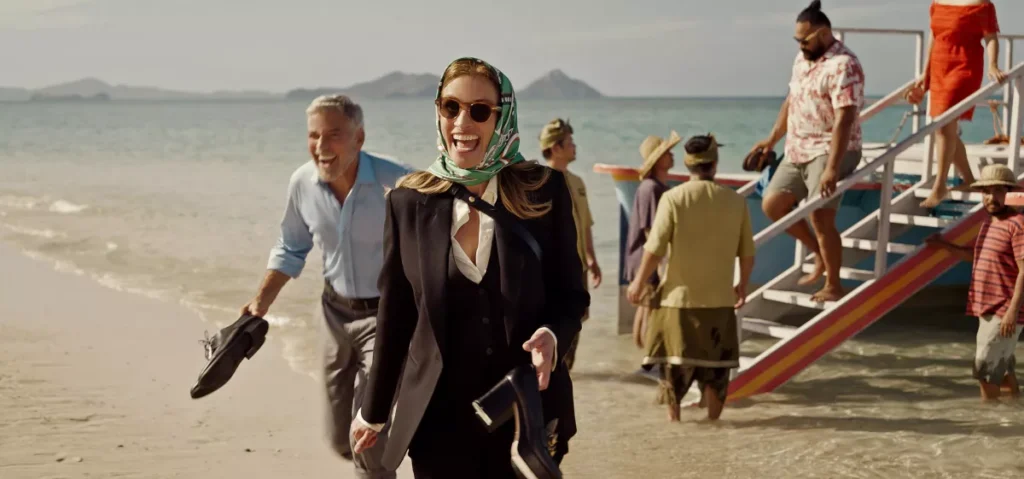 Georgia (Roberts) and David (Clooney) are bitterly divorced and don't even like to be in the same room together. Imagine the comedy that ensues when their daughter Lily (Kaitlyn Dever) neglects to tell them they'll be seated next to each other at her law school graduation!
But wait, that's not all. Lily falls in love with (and I am not making this up) an impossibly handsome seaweed farmer named Gede (Maxime Bouttier) in Bali where she goes on a post-grad vacation with her best friend Wren (Billie Lourd).
What follows is Georgia and David flying to Bali to stop their only child from marrying the love of her life.
The Verdict
Georgia and David are completely and utterly awful people. It doesn't matter how beautiful you are when you are insufferable to be around.
Most of this movie's appeal is watching Clooney and Roberts together, but the script fails them at every turn. It made me desperate to rewatch the 'Ocean's' movies with the two of them instead.
Cinematographer Ole Bratt Birkeland ('Judy') helps to make everything look like stunning, but if you can't deliver a gorgeous film set in Bali with this cast, you don't deserve to be behind a camera.
The worst part is that 'Ticket to Paradise' is far from unwatchable. By the time we get to see our leads playing beer pong and dancing to C+C Music Factory, it's impossible to not be at least a little bit entertained.
The film cannot maintain the rapid fire charm of its first half. It loses a lot of steam in the final act. Were it not for a long-standing relationship with these actors, would you even want to make it to the end?
C+
How to Watch
'Ticket to Paradise' is still playing in theaters nationwide. It is also now available for at-home Premium On-Demand viewing ($19.99 rental, $24.99 digital purchase). We suggest holding off for its Peacock debut, which should follow next month.
Looking for more to watch? Check out our November streaming recommendations here!
About Author