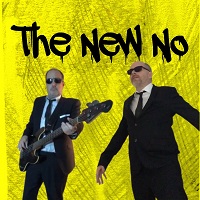 They're coming straight out of Liverpool and Birmingham, England. Dynamic duo The New No have released their new single "My Life In The Cartel".
Vocalist Rodney Christopher Guy Prosser and multi-instrumentalist Benedict Simon Leach have been making music together for nearly a decade. They found inspiration for the new material in music from London Underworld films. They experienced this first hand by drinking in 'dangerous places'.
Prosser had this to say about the new single.
The story of "My Life in the Cartel" is about Kenny Dogleach, who doesn't like being disrespected. The story that is told here is entirely based on the reality of people that Ben and myself have come into contact with or worked with. The lyrics are about a kind of gangster karma: if you make a mistake, you'll soon fall. The story moves from a past life as a Queen's Guard to working for an underworld boss and still having trouble at home with his wife. Needed a cake as a quiet reward for a busy day drowning three bad guys.
Both Prosser and Leach have musical backgrounds stretching further back than their first collaborations. Leach has more than 30 years of touring experience with bands like The Farm and later The Happy Mondays.
Prosser was instrumental in starting the fanzine PIGMENT in the early 1980s and has printed multiple books of poetry. He hosts Punk Party Radio which is on the air in France and the USA.
You can connect with The New No on their official website or by following along on Facebook and Instagram. And let us know your thoughts on The New No's "My Life in the Cartel" in the comments section down below.
Are you enjoying MendoWerks Magazine? Receive updates each week directly in your inbox. Sign up for the newsletter here.
About Author