Multi-platinum hard rockers Godsmack are back with their eighth studio album. The new material follows the 2018 release of When Legends Rise. Lighting Up The Sky will be released to the general public on February 24th, 2023.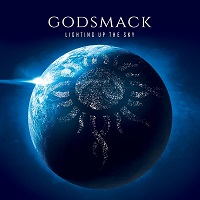 The new album was co-produced by vocalist/guitarist Sully Erna and Andrew "Mudrock" Murdock (Avenged Sevenfold, Alice Cooper). Lighting Up The Sky touches on topics like the polarized political climate and state of the world, betrayal, connection, rebounds, and the idea of legacy, what we're leaving behind. All the more relevant since Erna has recently hinted that this could be Godsmack's final studio album.
On the topic of the new album, he had this to say.
​​"I like when a record takes you on a journey from front to back. I realized there's a whole story here about one man's journey, the ups, and downs. I believe it's a story everyone will connect to, on a human level, because we've all gone through things in life."

-Sully Erna
Godsmack burst onto the scene with 1998s self-titled release. They cemented their status as one of America's pre-eminent hard rock bands with the 2000s Awake and 2003s Faceless. They've consistently released new material every 3-4 years since their inception. And from what it sounds like the band is ready to move into the next stage of their career
This doesn't mean they won't tour in the future, it just means there might not be new material the band will be bringing along on tours in the future. Which, based on the fact they have eight albums worth of material to choose from, we suspect they'll have no problem keeping things interesting.
For more information connect with Godsmack at their official website. Or follow along on Instagram and Twitter for additional updates. Let us know what you think of the new material in the comment section down below.
Tracklist: Lighting Up The Sky
You And I
Red White & Blue
Surrender
What About Me
Truth
Hell's Not Dead
Soul On Fire
Let's Go!
Best Of Times
Growing Old
Lighting Up The Sky
Are you enjoying MendoWerks Magazine? Receive updates each week directly in your inbox. Sign up for the newsletter here.
About Author