Adapted from the 2010 novel by Kōtarō Isaka, 'Bullet Train' is an action-packed thriller with a spectacular cast that involves multiple assassins on a high-speed train across Tokyo.
This is one of many films that Sony could have very easily have pawned off to Netflix last year when theatergoing was still shaky. After a few date changes and the success of features like 'The Lost City' and 'Top Gun: Maverick,' it feels like the decision to hang on to this one was pretty damn smart.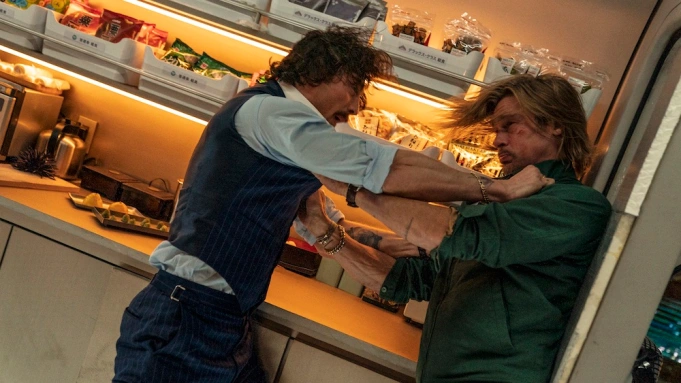 The Story
Brad Pitt stars as "Ladybug," a for-hire mercenary who considers himself to be unlucky. He's given what appears to be a simple task: retrieve a briefcase on a bullet train that is heading from Tokyo to Kyoto.
His unluckiness is proven when it turns out there are several other assassins who are also on the same train. "The Prince" (Joey King) is using an innocent schoolgirl disguise to protect herself. "Lemon" (Brian Tyree Henry) and "Tangerine" (Aaron Taylor-Johnson) are dapper brothers trying to hide the fact that they have a hostage in tow (Logan Lerman).
For a massive blockbuster, 'Bullet Train' contains some wonderful moments that do act as small surprises. I will not spoil some of the cast members who turn up briefly (although you will see them if you peek at Wikipedia or IMDB so be warned), but expect an excellent supporting cast including reggaeton star Bad Bunny, Andrew Koji ('Warrior'), and Zazie Beetz ('Atlanta').
You may need a flowchart to track the amount of double-crossing that is going on. And don't get me started on the general lack of train staff or passengers (although that is at least addressed as the story rolls on) amidst all of the shooting, fighting, and general bad manners.
The action sequences, of which there are many, are begging for viewing on the biggest and loudest screen possible. Levels of violence throughout are apocalyptic. As much as I did enjoy the film overall, the manner in which so many deaths are played for laughs made me a little uncomfortable. Maybe I'm becoming more sensitive to watching annihilation gleefully depicted for our entertainment.
Pitt's "Ladybug" understands that concern. He spends the entire movie trying to be zen and wrestles with what he does for a living. It's aligns nicely with a continuing thread about how "Lemon" learned how to read people's traits through the characters of 'Thomas the Tank Engine.'
Overall, the implausibility is high, but as summer escapism goes, 'Bullet Train' is wildly entertaining.
How to Watch
'Bullet Train' is now playing in theaters nationwide. Sony now has an output deal with Netflix and titles appear to be taking about 120 days to hit the service. That will likely find 'Bullet Train' streaming there in early December.
About Author