Colorado-based rock band At-Risk Youth has released their brand new EP On A Wire. The group was founded by vocalist/guitarist and primary songwriter Mark Foreman and drummer Ryan Hartline. The talented duo joined forces with bassist Ali Belone to round out the lineup.
We had a chance to catch up with Foreman to gain some insight into the recording process, what inspired him to begin playing music in the first place, and which musicians continue to bring him inspiration.
Check out the new EP below and be sure to follow along on Facebook and Instagram for updates.
Is it true the title of the EP comes from a Metric song? What's the inspiration behind that?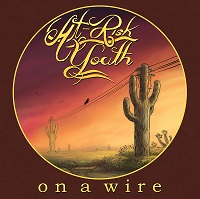 Yes, the title comes from a lyric in Black Sheep, one of the two covers on the EP. We really wanted to use one of the lyrics on the album as the title, and that one fit very well. It seems to speak of possibilities and anticipation.
Tell us about the recording process, and how it was to produce this EP in your house.
We started off by recording the full band as a unit in the living room–bass, drums, and guitar. There was a fair bit of bleed between the instruments, but I think that's a good thing–it gives the recordings more character and more of a live feel. From there, we laid down vocals, guitar overdubs, and percussion. After that, it was mostly mixing and mastering until the EP was fully put together. All of it was done at my house, and I think it turned out well.
What's your favorite song on the EP and why? You have a couple of covers, did they have significance to you?
My favorite song on the EP–I think the song that all of us like the most–is "Hung the Moon", the fourth song on the EP. It's the fastest song, and also the happiest, which I think contributes to us liking it the most. It's definitely one of the most upbeat songs in our catalog, and it's the newest one on the album, written this year; I actually finished writing the lyrics after we'd finished laying down the basic track.
As for the covers, one is of Metric's "Black Sheep", which was recommended by Ali as a good cover for us as well as one she sings lead on (she also takes lead for a verse and chorus of "Hung the Moon", and the other is The Beatles' "Hey Bulldog", which I recommended because I thought we could do a heavier version of it (and I think we succeeded); we chose those two songs because we liked them and they seemed like good songs to cover when trying to branch out from playing only originals.
What inspired you to start playing and recording music?
I really can't speak for all of us; for myself personally, it's just always been a part of my life. I've been playing guitar since I was 6, and I've never really wanted to quit. Music is just something that I really love doing.
Who would you say are some of your favorite/most inspirational musicians?
Steve Harris is one of them; I'm really impressed with his bass playing and writing chops, not to mention his endless energy. I'm also a fan of Billy Corgan, whose songwriting is usually top-notch, and Claudio Sanchez for weaving an entire world out of songs.
Who would you say are some of your favorite/most inspirational musicians?
My favorite animals are tapirs.
Enjoying MendoWerks Magazine? Receive updates each week directly in your inbox. Sign up for the newsletter here.
About Author