The Chelsea Hotel is one of the most iconic buildings in the history of New York City.
It has famously housed poets, rock stars, and artists and has been a designated landmark in the city since 1966.
As times have changed, so has the building. For decades, many lived within rent-stabilized units within the building. Most of the long-term tenants were bought out and paid to move after plans were made to renovate the building into a luxury hotel.
Some Residents Refuse To Leave
With 'Dreaming Walls: Inside the Chelsea Hotel,' directors Maya Duverdier and Amélie van Elmbt have chosen a "fly-on-the-wall" approach to document the building's residents who have refused to leave. We meet some of the more eccentric tenants from what is about 40 apartments left in the building during 10 years of construction.
These people, the majority of whom are elderly and have been in the building since the '70s and '80s, include Merle Lister. She is a former dancer and choreographer who has a love/hate relationship with the workers who create a cacophony of noise. We also meet Bettina Grossman, an acclaimed artist whose unit could have definitely been on an episode of 'Hoarders.'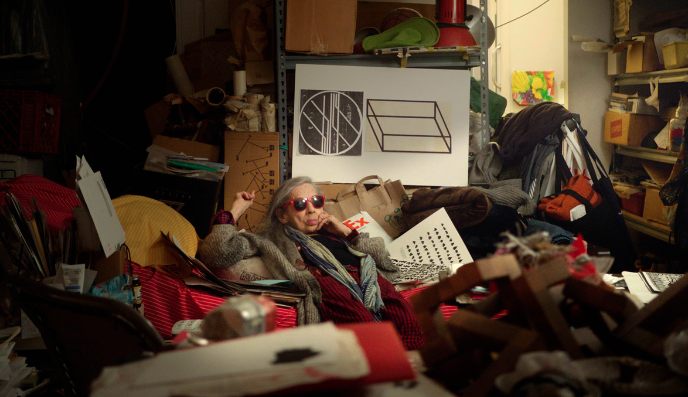 Many of the other older residents featured in this film will pass away in the years to come, making the battle over their units a moot point. The developers appeased most of them knowing full well they wouldn't be "in the way" for long. They're the final threads of connection between the bohemian days of the city clashing with the hedgefund normalcy of today.
There are others who are younger like an artist who creates using only wire. And the man who fought to preserve his unit where Janis Joplin once stayed. Due to costs, he only partially succeeds, losing square footage in his apartment so that he can remain.
It's easy to see why Martin Scorsese signed on as an Executive Producer. This film captures a sensibility and time period in New York that has all but vanished. While the ghosts of Nancy Spungen and Dylan Thomas wander the halls, Duverdier and Van Elmbt document these fleeting moments in a wildly esoteric manner that soothes the soul.
How to Watch 'Dreaming Walls: Inside the Chelsea Hotel'
As featured in our July streaming preview, 'Dreaming Walls: Inside the Chelsea Hotel' is now playing in select theaters and is available nationwide to rent from all digital services.
About Author