The Red Hot Chili Peppers surprised concertgoers Saturday night with a big announcement. After going six years between previous releases, they'll be releasing their second new album of 2022 this fall. Return of the Dream Canteen will be available on October 14th and is available for pre-order now.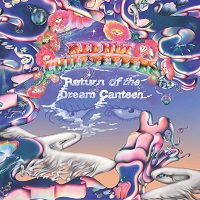 Their latest effort Unlimited Love was released on April 1st to much critical acclaim. The album marked the return of guitarist John Frusciante to the band and was their first since 2016s The Getaway. Rick Rubin is back on board as producer on the new record.
This quote from the press release announcing the project will give you some insight into Return of the Dream Canteen.
We went in search of ourselves as the band that we have somehow always been. Just for the fun of it we jammed and learned some old songs. Before long we started the mysterious process of building new songs. A beautiful bit of chemistry meddling that had befriended us hundreds of times along the way. Once we found that slip stream of sound and vision, we just kept mining. With time turned into an elastic waist band of oversized underwear, we had no reason to stop writing and rocking. It felt like a dream. When all was said and done, our moody love for each other and the magic of music had gifted us with more songs than we knew what to do with. Well we figured it out. 2 double albums released back to back. The second of which is easily as meaningful as the first or should that be reversed. Return of the Dream Canteen is everything we are and ever dreamed of being. It's packed. Made with the blood of our hearts,

-Red Hot Chili Peppers
Red Hot Chili Peppers On Tour
The announcement came as they kicked off the North American leg of their global stadium tour in Denver. The current leg runs through a September 18th show in Arlington, Texas. Artists like Beck, The Strokes and HAIM are opening up so be sure to check the tour dates page for more information.
From there they'll appear at the Louder Than Life Festival followed by Austin City Limits. They'll be heading to Australia and New Zealand with Post Malone in early 2023. The European leg that recently wrapped up were John Frusciante's first live performances with the band in nearly 15 years.
You can watch footage of the announcement here. Thank you to YouTube user Nicolas Peyraud for recording the moment as it happened. . To pre-order the album stop by the Red Hot Chili Peppers website. Follow along on Instagram and Twitter for additional updates.
"Black Summer" was the lead single from Unlimited Love. And while we feel that Josh Klinghoffer did an admirable job filling in, it's pretty incredible to hear Frusciate's influence. That guitar tone is instantly recognizable and it's shaping up to be a great year for Red Hot Chili Peppers fans.
Enjoying MendoWerks Magazine? Receive updates each week directly in your inbox. Sign up for the newsletter here.
About Author