The music video for the buzz-worthy collaboration featuring Patrick James Band and Tayla Rees has officially debuted. The duo came together to collaborate on "Anyway" after connecting in the studio. James is an industry veteran performer, songwriter, and producer and Rees is a rising star.
We were able to catch up with James (a.k.a. Pat Gasperini) to gain some insight on the release, find out how it all came together and what he has planned next.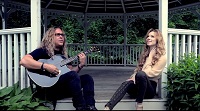 How did this powerful collaboration with Tayla Rees come about on "Anyway"?
I wrote "Anyway" a while back and has always been a special song to me and knew someday it would be released as a single. I've been producing, developing, and co-writing with Tayla Rees for nearly three years. She's opened for the PJB and I've pulled her up to do a couple of songs with us. It was a natural progression and the situation evolved into Tayla joining the band in addition to her career as a solo artist. So when we started rehearsing she and I came across "Anyway".
While singing in harmony, I suggested she sing the second verse. Something magical happened, The song took a different shape and vibe. I got chills like an out-of-body experience! Wearing my producer hat I said we need to record this immediately. And the already great song turned into an amazing one. I feel this iconic piece of work could cross over everywhere and to everyone.
You recently performed at Bethel Woods, the site of the original Woodstock. What was that experience like?
It was an amazing experience. So much history, so many good vibes, and great energy. The band was on fire. We were honored to play there and Tayla & I will be back opening for the Backstreet Boys on July 24th. I was also blessed to perform there as a break-out artist in 1999 at the Woodstock celebration so it holds a special place in my heart.
Can fans still pick up tickets for your next show at Daryl Hall's club Daryl's House? If so what's the best way to connect?
Yes, fans can go to Daryl's House website https://www.darylshouseclub.com/shows
and reserve tickets. We are working on a tour starting in October hitting markets in the south, southeast, midwest, and beyond.
As a renowned songwriter and producer on top of your work with PJB, what type of skillset are you looking for in the artists you collaborate with?
I always look for an artist that has something to say that moves me musically, lyrically, and creatively. They need to be focused and completely committed to their craft. The most important thing is that they are in for all the right reasons. Fame, fortune, and success are in the eye of the beholder! You must make music and perform because you can't live without it. When that passion is there the rest of the world will eventually get it!
Connect: Patrick James Band & Tayla Rees
Patrick James Band: Website, Facebook, Instagram
Tayla Rees: Website, Facebook, Instagram
Enjoying MendoWerks Magazine? Receive updates each week directly in your inbox. Sign up for the newsletter here.
About Author