Longtime Southern California punk-rockers Pulley has announced plans to release a new album, The Golden Life. Along with that, they've dropped a new single which happens to be the title track. And as if that wasn't enough, they've announced a European tour supporting Bad Religion and Pennywise.
Pulley formed in 1995 and signed a record deal with Epitaph shortly afterward. Over the next decade, they built a passionate fan base of punk rock fans. They released five albums and didn't let the fact their singer was a major league baseball player get in their way.
Frontman Scott Radinsky spent more than a decade playing for teams like the White Sox, Dodgers and Cardinals. Coming out of the bullpen, he sported a more than respectable 3.44 ERA over more than 550 major league games. After his playing career, he also spent time as a baseball coach but his first love was punk rock.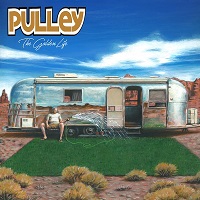 Pulley To Release The Golden Life On May 13th
Now signed to SBAM Records, the new album is due May 13th. Fans can pre-save here and listen to the new single on their favorite streaming platform. One can definitely hear the Bad Religion and Rise Against influence but they've got their own vibe happening on "The Golden Life".
In addition to the former MLB star on vocals, founding member Mike Harder plays guitar. Bassist Tyler Rebbe joined the band in 1998. The two newest members are Trey Clinesmith on guitar and Sean Sellers on drums. Radinsky had this to say as to the subject matter on The Golden Life.
Observing a generation of kids who have seemingly been robbed of an experience. Life without ease of access to good, and/or bad. Much of what they have seen in the world has been negative, unimaginable terrorist acts, war and violence, a division of people. In regards to music, our generation really had to earn it if we wanted to get a proper listen or visual. Technology, although having its good aspects, has removed an experience that offered a deeper appreciation of life.

-Scott Radinsky of Pulley
While there are no US dates to speak of at the moment, let's hope we get an announcement sometime soon. In the meantime Pulley is preparing for their European tour. Keep in mind Bad Religion and Pennywise are on different dates, we won't be getting all three at the same show. From there, they'll be playing some dates in Canada this summer.
Link up with Pulley on their Bandcamp page or by following along on Facebook and/or Instagram.
The Golden Life Tracklist
01 Repeat Offender
02 Lonely
03 Wake Up
04 Two Winds
05 Align The Planets
06 Northbound
07 Sad Song
08 Golden Life
09 Frances
10 Dust Off The Dreams
11 Transmigration
12 California
MendoWerks would love to hear from you! Submit your music now for a review.
About Author