Denver-based indie rockers The BRKN are back with a new single and music video. "Not The Same" will reel you in on the first listen. The accompanying music video is a performance piece and the vibe reminds me of The 1975 circa 2013.
The band consists of Jacob Cade on vocals and guitar. Mike Bokenkamp and MJ Younkers hold down the rhythm section on drums and bass, respectively. They've just kicked off one of their biggest tours to date with The Dangerous Summer. They'll be heading overseas later this year for shows in the United Kingdom and Europe.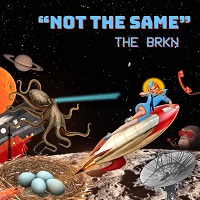 The BRKN made their debut in the spring of 2020 with the EP No. 3 and followed that up with the Come Outside release in 2021. This year has been off to a great start for the group with the release of their "Coffee" single in January. With "Not The Same" they have the potential to start growing their fanbase to new heights.
It turns out, the track almost didn't see the light of day. Frontman Cade didn't expect it to make it on the record. The track was inspired, "by this notion of merging 80's rock guitar with 80's synth-pop and trying to modernize it in a way that we liked. It's the beginning of our next venture into different sounds".
So what can you expect from The BRKN you might be asking yourself. If you're a fan of bands like the previously mentioned The 1975, Arctic Monkeys, The Strokes, and Beabadoobee, it just might be worth diving a little deeper into their catalog. And consider attending a show if they're coming to a music venue near you.
Tour Dates w/The Dangerous Summer
3/8 Denver, CO Marquis Theatre
3/10 Kansas City, MO The Rino
3/11 Chicago, IL Cobra Lounge
3/12 Grand Rapids, MI Pyramid Scheme
3/13 Lakewood, OH Mahall's
3/15 Buffalo, NY Rec Room
3/16 Pittsburgh, PA Craft House
3/17 Harrisburg, PA HMAC
3/18 Asbury Park, NJ House of Independents
3/19 Cambridge, MA Middle East Downstairs
3/20 Brooklyn, NY Knitting Factory
3/22 Richmond, VA Canal Club
3/23 Chapel Hill, NC Local 506
3/24 Columbia, SC New Brookland Tavern
3/25 Tampa, FL Crowbar
3/26 Atlanta, GA The Masquerade
3/27 Nashville, TN The Hi Watt
3/29 Dallas, TX Three Links
3/31 Phoenix, AZ Valley Bar
4/1 Anaheim, CA Chain Reaction
4/2 Oakland, CA Starline Social Club
4/4 Salt Lake City, UT Kilby Court
Check out the video for "Not The Same" and let us know what you think. And keep your eyes and ears peeled for more new music soon. You can expect a new album later this year. Follow The BRKN on Instagram and Twitter for additional updates.
MendoWerks would love to hear from you! Submit your music now for a review.
About Author