Dates are their current tour are selling out. Their new single "Head Right" is heating up on radio stations. And they've just announced a summer tour with Mt. Joy. Things are definitely headed in the right direction for Tulsa Oklahoma natives Widerado.
Now based in Los Angeles, it's been two years since Wilderado headlined a nationwide tour. Pent-up demand has resulted in sold-out shows across the country while many have been moved to larger venues. The tour is in support of their self-titled debut album which was released last fall. The album was produced by heavy hitters, James McAlister (Taylor Swift), Chad Copelin (LANY), and Angelo Petraglia (Kings of Leon).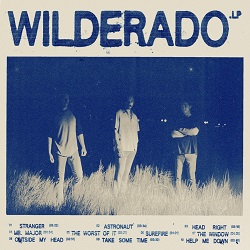 The band began in 2015 when members Max Rainer and Tyler Wimpee met through mutual friends. From there they started writing songs together, Justin Kila and Colton Dearing joined the fold later on. They've released a series of EPs and singles starting in 2016 and their latest effort is their most successful to date.
It's easy to list your songs on streaming services but it's difficult to get your material played on radio stations. They're seeing some success with "Head Right" and have cracked the top 20 on the chart landing at #16.
You can stop by the Wilderado website for current tour dates or follow along on Twitter and Instagram for more information.
Wilderado On Tour w/Mt. Joy
8/2 @ Van Buren in Phoenix, AZ
8/4 @ Cal Coast Credit Union Open Air Theatre in San Diego, CA
8/5 @ Hollywood Palladium in Los Angeles, CA
8/8 @Britt Pavilion in Jacksonville, CA
8/11 @ Woodland Park Zoo Amphitheater in Bend, OR
8/15 @ Outlaw Field @ The Idaho Botanical Garden in Boise, ID
8/16 @ Sandy Amphitheater in Sandy, UT
8/17 @ Red Rocks Amphitheater in Morrison, CO (SOLD OUT)
8/18 @ Mission Ballroom in Denver, CO
8/20 @ Salt Shed in Chicago, IL (SOLD OUT)
8/21 @ Salt Shed in Chicago, IL
MendoWerks would love to hear from you! Submit your music now for a review.
About Author