Nashville-based, New Zealand-born, Jackie Bristow is set to take the country music world by storm. Her new single "Livin' For Love" is out now and sets the table nicely for the release of her new album. Outsider is Bristow's fifth studio album and is due out in March. We recently had a chance to catch up with the talented singer/songwriter. Be sure to check out the interview (and music video) below. We'll get into some of the challenges of filming a music video while on lockdown. Plus we have more info on which popular HBO show you may have recently heard one of her older songs.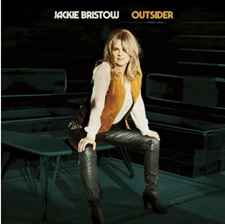 When COVID arrived in March of 2020, while visiting family in New Zealand, Bristow was unable to return to the United States. Thankfully due to advances in technology, she was able to collaborate with producer Rikki Morris in Nashville and long-time musical partner Mark Punch to complete Outsider with a group of top-notch musicians. The highlighted by Jorgen Carlsson of Gov't Mule and highly respected studio drummer Greg Morrow (Dolly Parton, Leon Russell).
Finding Inspiration
When it comes to the inspiration behind the song, it came from a friend in Sydney when discussing motivations in life.
"We're both artists and have embraced that life surrounded by people who resonate that same vibration. I personally have never made decisions based on the money. I guess in some ways it's quite courageous. I've always followed my heart and music has been my calling, a force that has taken me on an incredible journey. At the end of the day love conquers all, and choosing love for yourself and the world helps spread positivity and happiness."

-Jackie Bristow
Bristow is excited to hit the road this spring to reconnect with fans. Check out the interview below and visit Jackie's website for updates. You can follow along on Instagram and Twitter too if you like.
1. First of all, let's get a sense of your journey. You're currently based in Nashville but originally from New Zealand, how did your connection to Americana music develop?
It started when I was a young girl. I grew up in a small town in the Deep South called Gore which is the capital of NZ country music. That's where I got my start and my first performance on stage at 11 years old at the Gold Guitar Awards. For a decade I toured the South Island of NZ with my younger sister Katrina as "The Bristow Sisters" performing at country music festivals, competitions, and rodeos. We would cover songs from Dolly Parton, Willie Nelson, the Judds, Chris Christophen, and other American country artists so I think Americana just got etched in my bones at an early age. I never stopped loving this style of music and songwriting.
I moved to Sydney, then to Los Angeles, to Austin, back to sunny LA, and finally found my rock n roll home in Nashville TN.  The 'Outsider' album tells stories of this journey, including my love for California and Tennessee.  The incredible music, musicians & songwriters I have been exposed to inspired me and kept me on my path. I have met wonderful people with huge hearts who have welcomed me into their homes, their inner circles, helped & supported me.  My people, the insiders, I love you and love being part of the international music community. I have had pinch myself opportunities like touring with some of my musical heroes, including @bonnieraittofficial @bozscaggsmusic @tommyemmanuelcgp who all personally invited back to join their tours & shows! 
For years I had a big dream to move to America and when I finally moved to Austin I was blown away by how all those songs we sang from my childhood were on the radio.
2. You're gearing up for the release of your first new album in six years. What can you tell us about your experience writing and recording Outsider? 
I started writing the album when I was living in California. At the time I was touring quite a bit up the beautiful coast playing shows. It was such a happy time for me, living in Hollywood and playing in between tours at The Piano Bar, which had a pumping scene with many great bands and songwriters that influenced and inspired me. I loved playing so much out on the road around California like so many folk troubadours before me. I love the audiences in California and I made so many wonderful friends. "California, Shakin My Bones" is one of the songs that was inspired by my time there.
I finished the second half of the writing in Nashville. This was another inspiring time. Soaking up the country music and R&B soul country music and all the incredible songwriters in Nashville.
We tracked the album in Nashville where my good friend and music partner Mark Punch produced and mixed the album. It took a little longer than we hoped because of the pandemic and I was stuck in NZ. I ended up doing the second half of my vocals in Auckland with Mark finishing the album in Nashville, which was mastered at Sterling sound, also in Nashville.
3. What's it like being a musician today?
Being a self-funded independent artist takes an enormous amount of determination and courage. It's not an easy road and is paved with its challenges, including highs and lows.  For me, moving countries, cities, states, living life on the road, and often feeling like an outsider inspired the title track and theme of the album.  Along the way, I've connected & made deep friendships that will last a lifetime.
Dreams come true! I am in another new phase now being back home, back where I started in beautiful Aotearoa and waiting it out here while I wait to return to the road. I miss touring, playing shows, and seeing my friends around the globe, but as my partner in crime ' Mark Punch' says ' the Bristow Caravan' rolls on, right now it's with a new album to share! 
4. The music video for the song just premiered recently, can you tell us more about the challenges of putting that together?
I was locked down in New Zealand and I really wanted to create a video to tell the story of life in America. My good friend Mark Tierney produced the video and shot all the LA footage. I managed between lockdowns to get up to Auckland and shot some city shots with me singing by Oscar Keys. And then Mark Tierney worked his magic and pulled it all together for me. We made it happen despite all the logistical challenges.
5. Your song "Thirsty" was just featured on the hottest television series, 3x Emmy nominated HBO show Euphoria. How did that connection come about, as it's especially interesting that the song was released on your album Thirsty 20 years ago?
Amazing ha, you just never know when a song will find a home. I have been working with a music supervisor for over a decade and he has started focusing on my older catalog and currently only pitches that material. He has landed some really cool placements in the US including on the hit HBO show Euphoria.
6. What are some of the things you'd like your fans to know about you that might surprise them?
I am a homebody and love pottering around the house and making my home as pretty as I can. I love nice art around me and even though I have spent a lifetime on the road I actually love being at home.
Would you like a review on MendoWerks? Submissions are open now.
About Author