Perhaps I'm a glutton for punishment.
Despite it all, I've never been able to cut Woody Allen out of my cinephile life. Many have and I completely respect that, but I've had an entire shelf of his films in my movie collection for decades. He's made some of my all-time favorites and, even though there are incredibly diminishing returns, I still watch everything he releases.
'Rifkin's Festival,' his 49th feature film, might be the straw that broke the camel's back.
I had not heard encouraging things, but when it recently snuck onto VOD with zero fanfare, I knew I had to rent it. After all, it stars Louis Garrel, one of my favorite actors from France. I was going to watch it just for him, if nothing else. And, so I clicked the rental button and sat down for what is at least a mercifully short feature.
Shot in 2019, 'Rifkin's Festival' tells the story of Mort Rifkin (Wallace Shawn), a former film critic and professor who has accompanied his wife Sue (Gina Gershon) to the San Sebastián International Film Festival in Spain. She is a publicist and has clients who are premiering movies at the festival, so it's a good opportunity for Mort to glom on to the trip and spend some time with her.
The problem is that Mort becomes convinced that Sue is a little too attached to her directorial client, Philippe (Louis Garrel). He imagines that she's up to no good during the time she is spending with him and we are treated to various dreams and nightmares from Mort's fertile imagination that are adapted into black and white visions that take on classic films like 'Citizen Kane,' 'The Seventh Seal,' 'Jules and Jim,' and 'Persona.'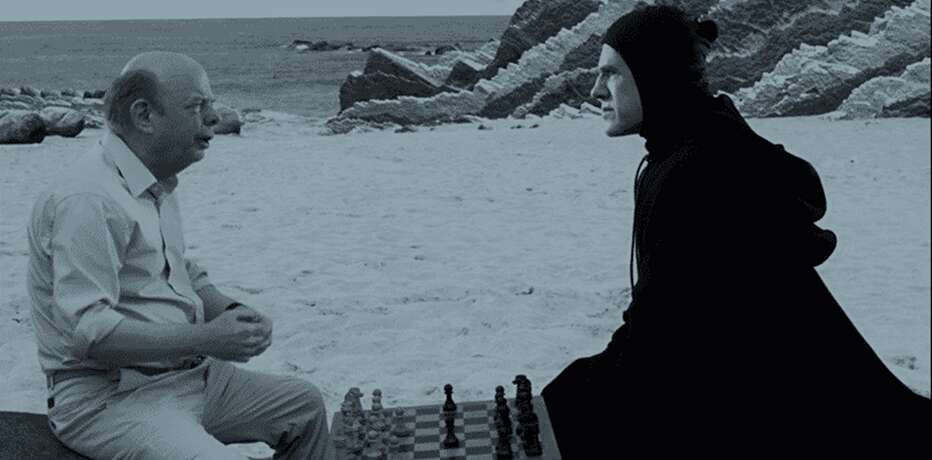 These little parodies are one of the few highlights of the production, especially as Christoph Waltz shows up as Death in the take off of 'The Seventh Seal.' One of the only other people to emerge unscathed here is Elena Anaya. The co-star of Almodovar's 'The Skin I Live In' is delightfully charming as a Spanish doctor who hypercondriac Mort becomes a little obsessed with during his visit.
Legendary Oscar-winning cinematographer Vittorio Storaro (who has shot Allen's last four films) makes everything look simply gorgeous and cleverly shifts aspect ratios and to black and white to sharply mimic the look of the original films during the dream parody sequences.
In a different timeline, this would have been part of Allen's Amazon deal – they dropped him in early 2019 after only releasing two movies in a four-picture deal. He has still been fairly easily to secure financing across Europe, but has not gone into production on a movie since this was shot. If it turns out to be his final film, it's a sadly unremarkable end to his career.
'Rifkin's Festival' is now playing in select theaters and is available nationwide to rent or buy from all digital providers.
About Author