UPDATE: Billie Joe's car has been found, read more about it in Rolling Stone. The original MendoWerks piece continues below.
Green Day frontman Billie Joe Armstrong has turned to social media for help finding a stolen car. According to a recent Instagram post on his personal account, Armstrong pleads with fans to reach out to local authorities if they have any tips as to the location of this classic automobile.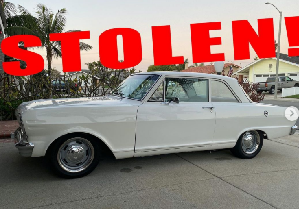 The missing 1962 Chevy II is 'near and dear' to all their hearts. The car was in the Green Day family for more than 30 years according to his post.
Anyone with information should reach out to the Costa Mesa Police department and mention incidents # 22-002015, 22-002016. The phone number to reach out to is (714) 754-5280. Let's hope someone is able to help get this sweet ride back where it belongs.
As far as what the band has been up to, their latest studio release Father of all… dropped in 2020. They recently celebrated the 30th anniversary of their Kerplunk album. And they released their fourth ever live album BBC Sessions in December. Recorded in 1994 over several sessions, it flashes back to a time when their Dookie album was just starting to make waves.
The band is hitting the road soon, performing at Super Bowl Music Fest on February 12, the Innings Music Festival in March followed by the Shaky Knees Festival in April. From there they have international dates planned in Russia, Germany and other parts of Europe.
For updates on the car, you can follow Billie Joe here. For all things Green Day-related, their Instagram and Twitter accounts are pretty easy to find.
About Author