Hard rock titans Kings County are back with a blistering new single and music video, "So Cold," which builds on the success of their previous releases; it is a relentless, high-octane rock experience.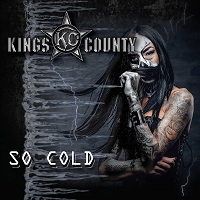 Kings County consists of Rob Dexter (Vocals, Bass), Steve Bell (Guitars, Vocals), Joe Lopez (Drums), and Bill Kania (Guitars, Vocals). They have a knack for delivering hard-hitting guitar riffs, scorching vocals, and an intense, melodic sound that grabs you by the collar.
Frontman Rob Dexter delves into the essence of "So Cold," explaining that the track encapsulates the multi-tiered complexities of life, relationships, and internal struggles. It's a song that resonates with anyone who's experienced the ups and downs of existence.
Kings County In The Studio
"So Cold" took shape at Pearl Sound Studios in Canton, MI. The facilities are owned by the band's producer, Chuck Alkazian who fine-tuned the track to perfection. From there Dexter and Bell brought the basic concept to life. Dexter emphasizes that in the world of music, you're only as good as your last song, and for Kings County, every release is a relentless pursuit of quality and passion.
Dexter aptly describes music creation as a full-contact sport, where you might take a hit now and then, but you keep pushing forward. It's about the unwavering dedication to writing, performing, and releasing music that speaks to the soul. As he puts it, "When the smoke clears, it's all about the music."
"So Cold" Music Video
The "So Cold" video, shot at M3 Studios in Miami, FL, by director Jon Vulpine, is a visual spectacle. Vulpine and his crew transformed the studio into a chilling winter wonderland. The shoot is complete with dead trees and falling snow, all while battling 90-degree heat outside. Known for his work with heavyweights like Three Days Grace, Skillet, and Seether, Jon Vulpine adds his signature touch to the video.
In a world overflowing with music, Kings County stands out as a force to be reckoned with. "So Cold" is the latest testament to their unwavering commitment to the art of hard rock.
Connect with Kings County:
Website | Facebook | Instagram | Twitter
Are you enjoying MendoWerks Magazine? Receive updates each week directly in your inbox. Sign up for the newsletter here.
About Author