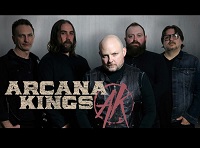 Canadian rockers Arcana Kings have been captivating audiences since their formation in 2015. With their distinctive fusion of arena rock, punk pop, and the unexpected addition of bagpipes, they have crafted a unique sonic identity that sets them apart. Their latest release, the single and accompanying music video titled "Soldier On" is making waves.
The band's lineup includes Johnny McCuaig, who takes the lead on vocals, bagpipes, and rhythm guitar. James Picton plays lead guitar while Allan Morrison is on rhythm guitar and vocals. Kevin Kyle and Graham Templeman hold down the rhythm section on bass and drums.
"Soldier On"
"Soldier On" does hold a deeper significance for Arcana Kings. It was a collaborative effort with members of the Soldier On program. The song's lyrics were drawn directly from the experiences of soldiers grappling with post-traumatic stress disorder (PTSD). Arcana Kings invited these veterans to express their thoughts and emotions on paper, which ultimately gave birth to the poignant song.
McCuaig, the band's frontman, expressed the band's mission behind the track. "The song was written in hopes of raising awareness for programs like Soldier On and, hopefully, raising some money for the charity." The Soldier On program (https://www.soldieron.ca/) is dedicated to supporting the well-being and recovery of military personnel dealing with physical and mental health challenges.
In The Studio
In terms of production, "Soldier On" was recorded and produced in Saskatoon at Reddoor Recording. The band collaborated with renowned producer Ryan Andersen. He's known for his work with heavyweights like Nickelback and Theory of a Deadman. The track was then expertly mixed by producer, engineer, and mixer Mike Fraser, whose credits include legendary acts such as Metallica, Aerosmith, and Led Zeppelin.
Arcana Kings' ability to blend their electrifying rock sound with meaningful storytelling and a powerful message is gaining the band attention not only for their musical prowess but also for their commitment to supporting veterans and those dealing with PTSD. "Soldier On" is a testament to their artistic prowess and dedication to making a difference through their music.
Connect with Arcana Kings:
Website | YouTube | Facebook | Instagram | Twitter
Are you enjoying MendoWerks Magazine? Receive updates each week directly in your inbox. Sign up for the newsletter here.
About Author