Boston-born singer-songwriter and guitarist Jesse Ahern has unveiled his debut album Roots Rock Revel. Produced by Grammy Award-winner Ted Hutt (Dropkick Murphys, Gaslight Anthem), the album was released through Dropkick Murphys' Dummy Luck Music record label. This 10-track collection of songs offers a compelling blend of gritty rock 'n' roll infused with roots inspiration and Americana-style storytelling.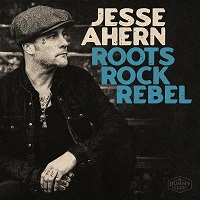 SPIN hailed the album as a "meaningful call to action in the tradition of great rambling American buskers." They particularly praised the debut single, "Pray," as "a foot-stomping, modern-gospel anthem."
Jesse Ahern has also released a music video for his moving single, "The Older I Get," featuring guest musicians Ken Casey of Dropkick Murphys and country singer-songwriter Jaime Wyatt. Directed by Mike Rivkees, the video adds depth to the song's emotional resonance.
Almost Didn't Happen
Ahern shared his thoughts on the evolution of "The Older I Get," stating, "'The Older I Get' was almost a throwaway song. I had been playing an earlier version of it while on tour in 2022, but something was missing. I brought the song to [producer] Ted Hutt, and he helped me make it the singalong it is now. While on the road with Jaime, she had asked if she could sing it with me onstage and it was a hit, so featuring her was a no-brainer. I felt the last verse was perfect for Ken and am honored that he was up for the task."
Jaime Wyatt added her perspective, sharing, "I met Jesse on tour, we were both opening for Dropkick Murphys, and the first song that made me run to the side stage to hear better was 'The Older I Get.' I instantly started singing a harmony. I was drawn to the humility and wisdom of the lyrics in that song. Jesse Ahern is a really special dude, which makes him such an insightful writer. He's lived to tell a lot of amazing stories, and I cannot wait for the rest of the world to fall in love with his music, like I did."
Jesse Ahern On Tour
Fans of Jesse Ahern can catch him performing tracks from Roots Rock Rebel on tour this fall. He'll join longtime friends and touring partners, Dropkick Murphys, on their headlining U.S. tour, alongside The Interrupters. The tour spans various cities, promising an opportunity for audiences to experience Ahern's unique musical stylings live.
Ken Casey, of Dropkick Murphys, added, "Everybody's out there trying to be something they are not, trying to sell an image and a product. Selling their soul for a like or a follow. Jesse is the polar opposite. His (Ahern's) music, his personality, his core brings me back to the days when none of that mattered. Simpler times when what you saw is what you got. PURE. And this song is Jesse at his best."
In Jesse Ahern's music, you can expect an authentic and unvarnished sound that harks back to simpler times, delivering a message of purity and raw emotion. His music captures the essence of storytelling through the lens of a streetwise troubadour, creating a genuine connection with listeners.
Connect with Jesse Ahern:
Website | YouTube | Facebook | Instagram
Are you enjoying MendoWerks Magazine? Receive updates each week directly in your inbox. Sign up for the newsletter here.
About Author