Zachary Wigon's sophomore feature 'Sanctuary' is a dialogue-driven erotic thriller that harkens back to the best work of Neil LaBute.
Set almost entirely inside a hotel room, the film explores the dark and twisted dynamic between a dominatrix named Rebecca (Margaret Qualley) and her soon-to-be ex-client, Hal (Christopher Abbott).
Hal is the heir to a hotel empire and on the path to becoming CEO after the death of his father. But he has his fair share of secrets and Rebecca knows them all.
How can he move forward professionally when she holds all the cards?
We spend one full night with Rebecca and Hal as he hires her for what he intends to be their last session.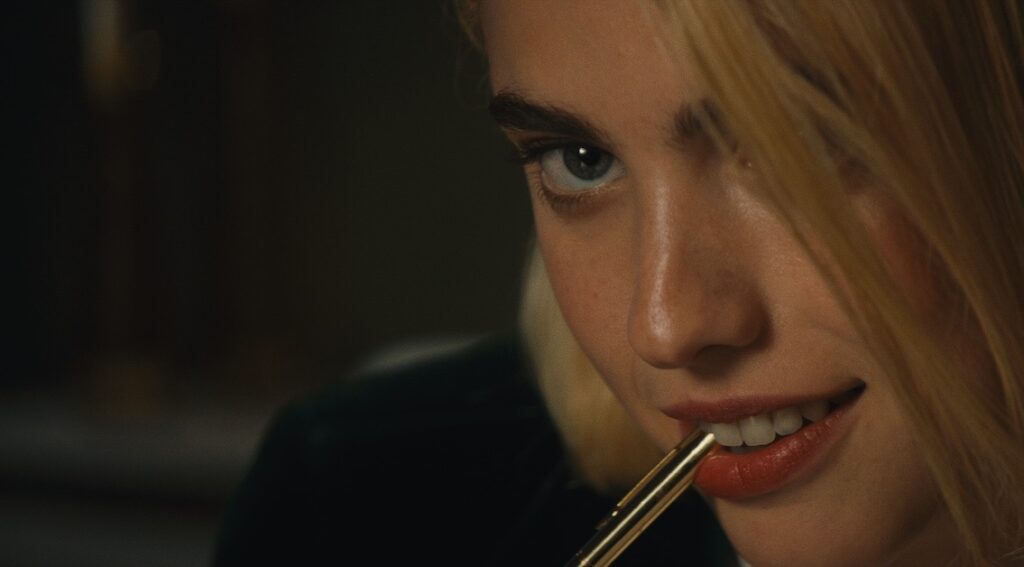 The Verdict
'Sanctuary' feels like it began as a stage play. We get two characters and a war of words for the entirety of the film's running time in a confined space.
That alone may be enough to scare you off, but if you aren't put off by the explicit nature of the storyline, don't let it.
Qualley, in particular, gives one of the best performances of the year. As Rebecca, she is cunning and cruel. She knows exactly how to push Hal's buttons and their evening escalates into a full-on power struggle.
The film itself is not explicitly sexual, but the dialogue certainly is. Despite having no on-screen nudity, there are moments that are fairly shocking. This isn't fanfiction absurdity like the 'Fifty Shades of Grey' series. It's most obvious forerunner would be 2002's 'Secretary.'
Screenwriter Micah Bloomberg ('Creative Control') expertly balances Hal's vulnerability against Rebecca's gift for manipulation. As her endgame becomes clear, it's a delight to watch the two leads battle.
Grade: A-
How to Watch 'Sanctuary'
'Sanctuary' is now available to rent or buy from all digital providers. It will be released August 15 on DVD. We expect it to surface for streaming on Hulu later this fall.
Looking for more movie recommendations? Check out our July streaming preview.
About Author