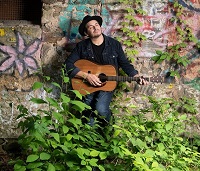 Get ready to be captivated by the soulful melodies of singer/songwriter Nik Rael on his new single. Rael is a talented musician hailing from Los Angeles, now residing in New Jersey. With "Medicine Man" he conjures music straight from his soul while delivering heartfelt lyrics that leave a lasting impression.
Nik's musical journey has been influenced by legendary artists such as The Beatles, but his true inspiration lies in soul singers like Aretha Franklin, Ray Charles, and Sam Cooke. These soulful influences shape his unique style and contribute to the depth of emotion in his music.
Story Behind The Song
The concept for "Medicine Man" stemmed from Nik's personal history and heritage. Being named after his Cherokee Indian medicine man great-grandfather, he drew inspiration from this familial connection.
Originally envisioning a grand song exploring the magical and spiritual aspects of being a medicine man, the final result took a personal turn. "Medicine Man" became a heartfelt anthem about rebirth, new beginnings, and the hope for new love.
Having already released three albums of original material, including two with his band Headsoup and one under his own name, Nik has garnered attention worldwide. His song "Thank You" from the album "Worlds Fade Away" received airplay from across the globe. Additionally, his Bob Dylan tribute album, "Winter '61," received nationwide airplay, further solidifying his musical prowess.
Making Of "Medicine Man"
"Medicine Man" was produced by Todd Mihan, and recorded in his home studio in upstate New York. Nik's musical prowess shines through as he not only wrote the song but also showcased his talent on acoustic guitar, vocals, and percussion. Mihan contributed his skills on drums, bass, lead guitar, and mandolin keys, adding depth and richness to the track.
With the release of Rael's "Medicine Man" is an accompanying music video filmed at the famed Mahoney's Irish Pub. With his heartfelt lyrics and captivating melodies, Nik invites you to embark on a musical journey. Don't miss the opportunity to experience the potential of this talented artist and embrace the power of his soulful music. And keep your eyes and ears peeled for more announcements sometime soon.
Connect with Nick Rael:
Website | Facebook | Instagram | Twitter
Are you enjoying MendoWerks Magazine? Receive updates each week directly in your inbox. Sign up for the newsletter here.
About Author