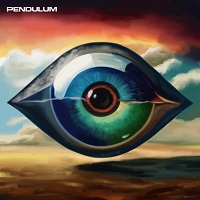 Electronic rockers Pendulum is back with a new single featuring Matt Tuck of Bullet For My Valentine. "Halo" has been released to the world and it features guest vocals from Matt Tuck. This collaboration is nothing short of extraordinary. Fans are in for a treat as the band unleashes its signature sound in a way that pushes the boundaries of musical genres.
To complement the release, Pendulum has also unveiled the official music video for 'Halo,' directed by the talented Kristian Young. The video showcases the band's electrifying energy alongside Matt Tuck's commanding presence. They've created a visual spectacle that perfectly represents the intensity of the track.
New Music
This latest single "Halo" marks Pendulum's first new music of the year, and it does not disappoint. Released under the Mushroom Group/Virgin Music Group, the track sets the stage for their highly anticipated live performance at this year's Download Festival in the UK.
Rob Swire, the creative force behind Pendulum, has described 'Halo' as a piece that embodies the spirit of the apocalypse. With every note, the band draws listeners into a world of musical chaos and raw power. Collaborating with Matt Tuck has been a revelation for Pendulum, as his unique vocal style adds a whole new dimension to their already iconic sound. The anticipation for this track has been building ever since Rob Swire teased it on Instagram, with fans eagerly awaiting the moment they could immerse themselves in the captivating lyrics that begin with the words, "It's a halo…"
Pendulum: Platinum Success
Pendulum's reputation as one of the biggest electronic bands of all time is well-deserved. The band has three platinum albums to their name, including the critically acclaimed debut Hold Your Colour. Their UK success is unparalleled, with two albums, Immersion and In Silico reaching the number one and two spots on the charts, respectively. Their unique fusion of drum and bass with rock elements has struck a chord with millions of fans.
Beyond their studio recordings, Pendulum's live performances are nothing short of legendary. Their unstoppable energy and remarkable stage presence have earned them numerous awards and a dedicated global fanbase. From headlining Glastonbury and Ultra Miami to selling out arenas worldwide, Pendulum's live shows are an experience like no other.
What's Next?
Looking ahead, 'Halo' is just the beginning of what promises to be Pendulum's most ambitious and exciting year yet. The band has a plethora of new music waiting in the wings, ready to captivate audiences with their unique brand of electronic rock. They are set to perform at the Download Festival, where fans will witness their unparalleled live performance. Additionally, Pendulum will join forces with Limp Bizkit for a highly-anticipated one-day festival at London's Gunnersbury Park this summer.
If you haven't already immersed yourself in the sonic world of Pendulum, now is the perfect time. "Halo"'" is an electrifying testament to their musical prowess and innovation.
Connect with Pendulum:
Website | Instagram | Twitter | Facebook | TikTok | YouTube
Are you enjoying MendoWerks Magazine? Receive updates each week directly in your inbox. Sign up for the newsletter here.
About Author