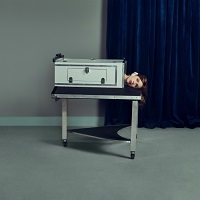 Two-time GRAMMY Award-nominated artist and producer K.Flay is back with exciting news and new music for her fans. Her highly anticipated studio album MONO is set for release on September 15th.
K.Flay co-produced the entire album, collaborating with a talented roster of songwriters such as Jason Suwito, Jeoff Harris, Dave Hammer, Pink Slip, and Paul Meany. Meany also served as the executive producer.
MONO marks the first full-length album for GIANT Music. To celebrate the announcement, K.Flay has dropped the captivating second single and accompanying music video, "Shy."
K.Flay: Getting Personal
With "Shy," K.Flay opens up about her personal life and the challenges she faces when it comes to romantic relationships. The song was written shortly after she met her current girlfriend, and it serves as a unique way for K.Flay to express her feelings.
With Dave Hammer's production, the duo brings incredible energy to the track, allowing their creativity to flow freely. Many of the guitar parts were improvised during the recording process, resulting in a raw and captivating sound that resonates with both K.Flay and Hammer.
"Shy" follows the success of K.Flay's lead single from MONO, "Raw Raw." The strong lead single has already garnered over 1 million streams and is steadily climbing the alternative radio chart.
New Album
MONO promises to be a captivating and thought-provoking album that showcases K.Flay's experimental and innovative style. The record delves into a wide range of topics, including social issues. The track "In America" takes on guns, drugs, and police violence, packaged within an upbeat pop tune.
Other standout songs on the 14-track album include the industrial electronic rock anthem "Irish Goodbye," featuring Vic Fuentes from Pierce The Veil, and "Punisher," which delves into K.Flay's own internal struggles.
Health Struggles
The album title MONO carries a special significance for K.Flay. It reflects her new sensory reality, as she experienced a sudden and complete hearing loss in her right ear due to a rare condition called SSNHL (Sudden Sensorineural Hearing Loss) and Labyrinthitis.
The loss led her to cancel her fall tour, and she even contemplated leaving music altogether. However, she embraced the journey ahead, and through the process, she discovered a renewed sense of creativity. In just a few months, K.Flay crafted what she considers her most experimental and accomplished studio album to date. Additionally, MONO serves as a testament to her sobriety, as she completed the album from start to finish while staying sober.
Don't miss out on K.Flay's latest single, "Shy," and the mesmerizing music video. And for an unforgettable live experience, catch K.Flay on her co-headlining tour across the US with grandson.
Connect with K.Flay:
Website | Instagram | TikTok | Twitter
Are you enjoying MendoWerks Magazine? Receive updates each week directly in your inbox. Sign up for the newsletter here.
About Author